Students And Staff Adorn The Halls With Sunflowers For Ukraine
Students and staff gathered to decorate the walls of the history hallway with sunflowers filled with positive messages and quotes to support Ukraine.
Lining the history hall downstairs are hand-colored and hand-crafted sunflowers displaying words of support for those who are trapped in Ukraine. The students and staff of social studies classes took it upon themselves to show their support for Ukraine in a way that is symbolic to Ukrainians.
Russia and Ukraine have been at war since Feb. 24 when Russia invaded Ukraine to "de-nutrialize and de-Nazify Ukraine," according to Russian President Vladimir Putin. So far, there have been about 1,300 soldier deaths in Ukraine since and Russian soldiers have destroyed over 600 buildings including schools, hospitals, and nurseries.
President Biden met with members of NATO in Brussels, Belgium on March 24 and then joined the United Nations in another summit the following day. Biden plans to have the U.S. lead a "new world order." There was also discussion on how members of NATO plan to give Ukraine an advantage on the battlefield.
In order to show their support for Ukraine, social studies teachers including Joshua Dobbs, Kathryn Meredith Taylor, Victoria Webb, and their classes created sunflowers to adorn the school's history hallway with messages like, "may peace flourish like a sunflower."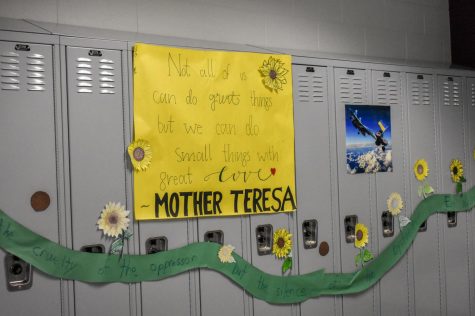 Dobbs wanted to decorate the hallways with sunflowers to send a "message of solidarity with our democratic allies and to call for peace," Dobbs said.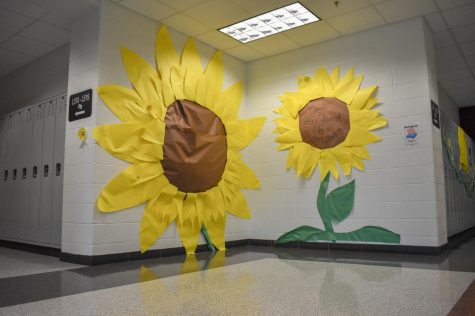 Many Ukrainian citizens have stood up to soldiers for their country and families. Even in Ukraine, the sunflower continues to provide a beacon of hope for Ukrainian citizens; one unnamed woman, in particular, stood up to a Russian soldier and handed him sunflower seeds. "Take these seeds and put them in your pockets, so at least sunflowers will grow when you all lie down here," she said.
Some students, however, worry that the hallway decorations weren't enough. "I think Ukraine wants our help, not our regards," senior Payton So said. 
Social sciences teacher Steven Mobley finds the sunflowers meaningful. "I thought it was a perfect, and also a hauntingly beautiful, way to have sunflowers connect to Ukraine," Mobley said. "The connection with the two is sad and poetic."
Through the students and teachers of the Government classes, Rock Ridge was able to show that we supporting Ukraine, even if it is only through the paper sunflowers that they created.