FRIENDS VS. GOSSIP GIRL: Thanksgiving Edition
"Friends" and "Gossip Girl" are iconic shows that do "Thanksgiving episodes" better than any other, but who takes the cake on the best?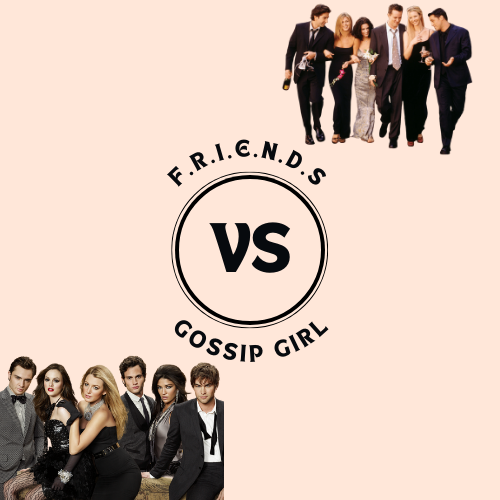 Dramatic, emotional, soul-stirring, comedic, and intense. What do these terms have in common? One word: Thanksgiving. The Thanksgiving episode of any TV show is nothing less than iconic. With viewer counts reaching the millions and ratings nothing below seven, the shows "Friends" and "Gossip Girl" are the perfect embodiments, Thanksgiving episodes get every family together and snuggled up on the couch. 
FRIENDS
In a noisy apartment filled with 6 people in downtown Manhattan, anything can happen — and no one does Thanksgiving like this group. "Friends," a sitcom featuring stars like Jennifer Aniston and Matthew Perry, has  exactly 10 Thanksgiving episodes, one in every season. The show takes the award for the most watched Thanksgiving episode, "The One with the List," with over 30 million viewings. The entirety of the show is comedic, so the drama doesn't reach high extents. As the friends are more like  family at the end of the day no matter what, these episodes often help you feel at home. 
Season 1: The One Where Underdog Gets Away– This episode highlights the friends´ first Thanksgiving together as a group. The crew discovers Chandler Bing´s (Matthew Perry) weird childhood and Joey Tribbiani's (Matt LeBlanc) interesting modeling gig. The six of them getting locked out of Monica Geller's (Courtney Cox) apartment makes everything a 100 times more entertaining.
Season 2: The One With The List- This episode has everyone on the edge of their seats with Rachel Green and Ross Geller´s (David Schwimmer) mystifying love life. Monica´s career is put to a test and everything falls apart once Rachel sees a pro/con list about her. 
Season 3: The One With The Football- The feeling of family returns within the friends group in this episode. The gang plays an important, but funny, game of three-on-three football. Monica and Ross bring their old family traditions to the field as they make it as serious as possible. With ¨The Geller Cup¨ on the line, how could they not?
Season 4: The One With Chandler In A Box– This episode has a hilarious plot of Joey locking Chandler in a box because he kissed his sister. Monica´s love life continues to be the highest form of entertainment, and we learn a lot about Rachel as we see her exchange the gifts she receives. 
Season 5: The One With All The Thanksgivings– Flashback episodes are needed for any show, what better way to do that than incorporating it with Thanksgiving? We learn about what Chandler thought of Monica´s weight before they were friends, Monica cutting Chandler's toe and Phoebe Buffay's (Lisa Kudrow) mind boggling past life.
Season 6:The One Where Ross Got High– Featuring Ross' and Monica's parents, Monica gets grilled for every little thing in her life,  while Rachel, a terrible baker, is in the midst of attempting to make dessert for the family. Secrets get spilled as confessions are made all around the room. This episode will have you go from shocked to cry-laughing in two seconds. 
Season 7: The One Where Chandler Doesn't Like Dogs– Centered  around Chandler and his crippling fear of dogs, this episode will leave you with tears in your eyes. It also includes Ross' enjoyable tantrum of not being able to complete a simple 50 states game. Although this episode doesn't quite compete with the others, it still keeps us glued to our screens.
Season 8: The One With The Rumor– Featuring beloved and extremely famous Hollywood star Brad Pitt, this episode is stacked on drama. Pitt gets invited to their traditional thanksgiving dinner and havoc breaks loose. Life changing rumors and stories from the past get restored, which causes an obvious tension at the table. Just like Joey's thanksgiving pants, this episode is a jaw-dropper.
Season 9: The One With Rachel's Other Sister– In this episode Rachel's sister, Amy (Christina Applegate), pays an unexpected visit. Amy, privileged butdumb, spices things up as she thinks she would be the one who would raise Ross and Rachel's baby, Emma. Monica loses it as she uses her wedding china for dinner. 
Season 10: The One With The Late Thanksgiving– With a bittersweet last Thanksgiving episode, Monica doesn't want to host Thanksgiving this year, yet her friends force her. With all that effort, they are still all late! Monica locks them out until she gets the best call of her life: she was going to get a baby. The friends all settled down together for one last Thanksgiving meal. 
"Friends" has a filled plot every single episode, and there isn't a dull or bland moment.. Everyone watching these episodes laughs at Chandler's sarcastic remarks, feels as though they are eating Monica's delicious meals or wearing Joey's pants, listens to Phoebe's horrible music and falls in love with Rachel like Ross. These episodes never fail to make you feel like they're your friends too. 
GOSSIP GIRL
With dining rooms dominated by  exorbitant table runners filled to the edges with expensive turkey, New York's Upper East Side doesn't take Thanksgiving lightly. Red leaves falling from trees and the smell of pumpkin pie filling the air makes fall in the city alluring, and "Gossip Girl" encapsulates just that. Unlike "Friends," "Gossip Girl" is a teen drama that doesn't focus on comedics. "Gossip Girl" features stars such as Blake Lively and Penn Badgley. Although "Gossip Girl" may have less Thanksgiving episodes, that doesn't make them any less iconic. Taking viewers through drama only the filthy rich experience, "Gossip Girl" makes you feel like the latest "it" girl. 
Season 1: Blair Waldorf Must Pie!– This episode sets the scene of Thanksgiving in the Waldorf, Van Der Woodsen, Bass, Archibalds and Humphrey households. With houses decorated from top to bottom and everyone dressed in top designer brands, this episode flashes to the past and present, showing how Serena Van Der Woodsen (Blake Lively) went from "bad girl" to "good girl." It doesn't shy away from serious scenes,such as Blair Waldorf (Leighton Meester) suffering from bulimia. 
Season 2: The Magnificent Archibalds– As Blair tries to stop her manipulative and blackmailing ways with her new step-father, Nate Archibald (Chace Crawford) doesn't seem to get a chance to breathe as his father, "the captain" surprises him by coming home from Dominica after hiding out from the police there. Chuck Bass (Ed Westwick) and Vanessa Abrams (Jessica Szohr) get involved with "the captain" as the FBI contacts them regarding ransom. In the newly combined Bass and Van Der Woodsen household, everything starts to fall apart as they find out Bart Bass has information on them and their entire lives.
Season 3: The Treasure of Serena Madre– As  Jason Derulo's "Whatcha say" plays in the background, the scene is set for an intense Thanksgiving dinner. Although the whole group decides to have dinner together, destruction happens on every corner of the long table. Affairs get exposed, family drama expands, and a pregnancy scare takes place. Getting up one by one, everyone takes his or her own dramatic exit. 
Season 4: Gaslit– In this episode everyone thinks Serena Van Der Woodsen had become a "bad girl" once more. Lily Van Der Woodsen frantically tries to get her into rehab with Dan Humphrey's help to fix her. Blair finds out the truth about Juliet (a special guest), which blindsides everyone. 
Season 6: It's Really Complicated- In the final Thanksgiving episode of the show, Nate punching Dan is all we needed. Chaos breaks loose as Dan publishes a chapter of his book about Serena. True colors are shown and the developed version of Chuck and Blair captures our hearts. 
"Gossip Girl"'s never ending drama keeps us hooked. What does gossip girl have to say about this? Who slapped who? Who kissed who? And the parents did what!? The table stays full of food but also lingering questions and tension. We get a deep dive into the scandalous and dirty lies of the Upper East Side's elite. We get hit with hard hitting questions and think about the insane things rich people deal with. Although "Gossip Girl" doesn't give you the homey "Friends" experience, it's an experience nonetheless. Not that Gossip Girl lacks that cozy ending — you just have a lot to get through before getting there. 
Although both are set in NYC, "Friends" and "Gossip Girl" are more different than similar. While "Gossip Girl" focuses on love triangles, manipulative lies, and drug scandals, "Friends"  shows family friendly games of football and funny plots of being locked in a box. 
If you want a light hearted, hilarious show to watch during the Thanksgiving season, "Friends" is the one for you. If you want a chaotically entertaining show full of thrilling scandals, "Gossip Girl" should be on your binge list.