Netflix's Biggest Hit to Date: "Bird Box"
Netflix's original motion picture, "Bird Box," sparked worldwide discussions and memes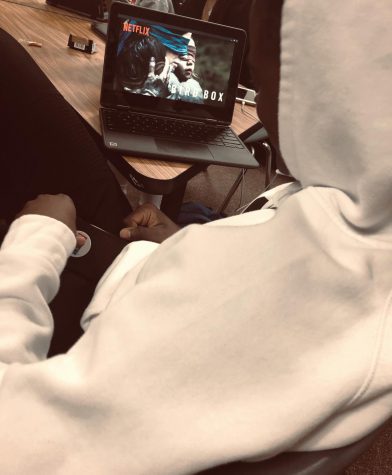 The new Netflix original, "Bird Box", starring Sandra Bullock, became a magnet for memes across social media after its release on Dec. 13. Upon its release, critics gave negative reviews to the survival horror movie because of its undeniable similarities with John Krasinski's "A Quiet Place." Both horror based movies focused on survival methods of having one of the five senses blocked. "A Quiet Place" focuses on monsters who rely on sound to hunt for their victims, while "Bird Box" features demonic forces that target sight.
Critics such as Variety's Peter Debruge spoke out against the misleading connection between both movies. Debruge said, "'Bird Box' has been compared to 'A Quiet Place,' only that that film had real monsters, genuine suspense, and a much more intuitive set of rules for survival."
Senior Tristan Bowe disagreed with the criticism. "I liked how it was full of suspense and continuous action. You never knew what was gonna happen next," said Bowe. However, critics were shocked by the numbers. Just seven days after the release of the original motion picture, 45,037,125 Netflix accounts had streamed the movie, making it the biggest opening ever for a Netflix original film. In less than a month, "Bird Box" became a massive part of the public's lingo, eliciting more responses than November's big screen hits combined.
"Bird Box" not only became a viral meme sensation, but it became a worldwide trend of the "Bird Box" Challenge, where people go out into the wild while blindfolded. The challenge has aroused many concerns, causing Netflix to release a statement. "Can't believe I have to say this, but: PLEASE DO NOT HURT YOURSELVES WITH THIS BIRD BOX CHALLENGE. We don't know how this started, and we appreciate the love, but Boy and Girl have just one wish for 2019 and it is that you not end up in the hospital due to memes," they wrote.
The discussion over the movie didn't just stop with social media; it was discussed all around schools after returning from the holidays. It was faced with negative and positive views from the Rock Ridge student body. Many people enjoyed the movie, like junior Sarah Omari, who said, "'Bird Box' has a very interesting story. I've never seen a movie written like that before. Also, when I found out that the actors were actually blindfolded throughout the movie, it blew my mind."
However, not everyone could relate to the hype surrounding the movie. "It started off a bit slow and very vague. I actually couldn't get through the movie fully my first time watching it. I don't necessarily understand all the hype because I truly didn't understand the concept of what was happening," senior Daijah Mullen said.
"Bird Box" isn't just another suspenseful and jump-scare thrill machine, nor is it a bootleg version of "The Quiet Place." The movie is quiet and quick, with mechanisms to have the audience live through the experience the whole duration of the film. The creatures in the film opens up the horror majority of us fear, the reality of seeing the world as it is. Remove the blindfold, and watch this phenomenal motion picture, because you're not the only one afraid of something; everyone is.