Comedian Under Fire for Resurfaced Controversial Tweets
Comedian Kevin Hart has been under fire over his past homophobic tweets that have been recently emerged from internet trolls after his public announcement of hosting the 91st Academy Awards.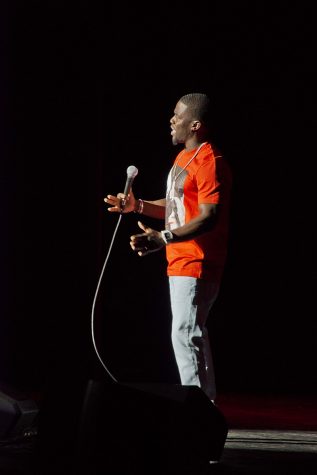 On Dec. 4, 2018, Kevin Hart publicly announced that he'd be hosting the 91st Academy Awards.  He shared a heartfelt post on Instagram, writing, "I am blown away simply because this has been a goal on my list for a long time. . . to be able to join the legendary list of hosts that have graced that stage is unbelievable." However, he didn't expect the fire that came after.
In early December, Hart's old tweets began to resurface across Twitter, receiving criticism from the LGBT community and its supporters. The Academy gave him an ultimatum: apologize or give up the Oscars hosting gig.
In 2009, Hart published homophobic tweets that talked about his biggest fear being that his son would be gay. He reaffirmed these beliefs in a 2010 interview for his movie "Seriously Funny." Hart said, "I'm not homophobic . . . be happy. Do what you want to do. But me, as a heterosexual male, if I can prevent my son from being gay, I will."
Hart refused to apologize, opting instead to issue a statement on Instagram. "I've addressed it. I've spoken on it. I've said where the rights and wrongs were. I've said who I am now versus who I was then," Hart said.
As someone who has always admired Kevin Hart for his truthful, humble nature, it's hard for me to grasp the context of the criticism on how he's a bad human being because of what he said several years ago. Everybody has their own opinions, whether in the best interest of some people or not; we cannot bash someone for having their own beliefs. He simply put forward his opinion about his own son. Internet trolls will always do anything in their power to ruin someone's career by digging into controversies about someone's past and exploit it to something bigger.
Hart wasn't the only one subjected to this type of attack. James Gunn, a writer and director for the movie "Guardians of the Galaxy," was fired from Disney in July over his past controversial tweets.
Talk show host Ellen DeGeneres defended Hart on air, saying, "[Internet trolls] are gonna win if you don't host the Oscars. You can't let them destroy you, and they can't destroy you because you have too much talent." DeGeneres did receive backlash upon the airing of her show, but she disregarded the criticism and focused on the fact that everyone deserves second chances.
With the platform many celebrities are given, it's right to use that platform and advocate for things that matter. What Kevin Hart tweeted eight years ago was negative and degrading towards the gay community, but Hart has since apologized numerous times. He doesn't deserve to have his career sabotaged over things that were said in the past, when mindsets and cultural values were different. Everyone deserves a second chance at redemption, and that should not exclude Kevin Hart.
Actress Glenn Close spoke with deep love towards the comedian, changing the mindset of many people. "I think we are all incredibly flawed creatures . . . We all will make mistakes and we also change Nobody stays in the same place they were even yesterday," she told Us Weekly. "If somebody's life experience has put 'em in a different place than they were back then, I think that should be respected," Close said.
Hart later spoke to SiriusXM, apologizing for his past words. "I want to make it very clear . . . Once again, I apologize for my remark that hurt members of the LGBTQ community. I apologize," he said. Although Hart apologized once again, the 91st Academy Awards will be hosted by Alicia Keys.