Rock Ridge vs Stone Bridge triple overtime game
Rock Ridge comes home with a win from a triple overtime game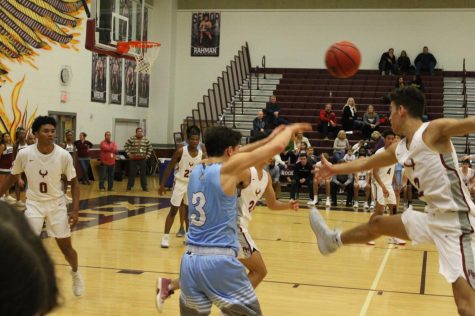 On Dec. 7, the Rock Ridge varsity boys' basketball team played a show-stopping game against Stone Bridge. Rock Ridge came out with a fight and ended with a win, but it wasn't easy; the game spanned three overtimes.
Junior Elliott Lightner hit a three-point shot, with only half a second left in the third overtime, leading the Phoenix to a victory of 84-82. As the ball went through the hoop, fans were shocked and rushed the court to go congratulate the player of the game. "I had to stop cheering just to look at the game because I was so nervous that we were going to lose," said sophomore Nicole Benites, a varsity cheerleader. This game will never be one to forget, especially for senior Alex Fitch who was the highest scorer of the night.
"Since I was sitting on the sidelines, due to breaking my wrist, [the game] was the most jaw-dropping and adrenaline-rushing experience of my life. Watching my own teammate make the winning shot of the game was such a flabbergasted [sic] moment," said sophomore Gregory Spurlock. This is most definitely a game that may never be forgotten.