Seniors Kick off Spirit Week With a Win Against Juniors in Annual Powder Puff Game
The seniors and juniors played each other at the annual Rock Ridge High School Powder Puff game for charity on October 7th.
Hang on for a minute...we're trying to find some more stories you might like.
The senior class Powderpuff team won the annual Powderpuff game against the juniors, which started spirit week off with a senior advantage and even a little rivalry between the two classes.
On the chilly Monday evening of Oct. 7, the junior and senior Powderpuff players competed against one another at the annual Powderpuff game that raises money for charity. 
The concept of reversed gender roles that Powderpuff is known for—male cheerleaders and female football players—attracted a supportive crowd. The game was the first spirit event of the week of Rock Ridge's Homecoming. The seniors won with a score of 35-7, giving them a great start to spirit week.
Every year during the week of Homecoming, juniors and seniors tend to get very competitive with one another and try to be the class with the most spirit points. Since Powderpuff kicks off spirit week, the juniors and seniors were eager for a win because they wanted to start off spirit week strong for their classes. The mix of eagerness for a win and excitement for the week built up a small rivalry between the opposing teams/classes during the two weeks leading up to the game. "I did feel like there was a rivalry built up, but it was all in good fun," junior Evan George said. He was the coach of the junior Powderpuff players. 
During the game, both teams chose offensive and defensive plays in order to score points or stop points from being scored. Both the juniors and seniors practiced and reviewed these plays ahead of the game in order to be in the best shape possible to win. Junior player Meghan Groah believed that the juniors had a few tricks up their sleeve when it came to plays. "I think we had more plays. We had some sneak attacks in there," Groah said. Overall, both teams enjoy the spirit contests and poking harmless fun at each other. The energy of the pep rallies and sports competitions contribute to each grade having fun representing their school. "I think it's a lot of fun; I'm friends with a lot of the seniors, so I think it's fun to go against them," Groah said.
Junior Ryan Leach was only one of a few junior male cheerleaders at the powderpuff game. "It was my first time cheerleading," Leach said, "I learned a lot of new things from some cheerleaders. It was a fun experience." The cheerleaders practiced and performed fun and unique dances and cheers to keep the audience's and players' spirits high. 
However, Leach felt that there was an imbalance in the spirits of the juniors and seniors. "I think the seniors, because it's their last year, have a lot more spirit," Leach said, "I think the seniors were way more full of energy compared to the juniors. We only had like four cheerleaders, and the seniors had like 10." Despite this, Ryan expressed his enthusiasm to participate in Powderpuff cheerleading again next year.
Overall, the Powderpuff game was a great way to raise money for charity. The event ended up raising more than 900 dollars. The game also got the junior and senior classes in spirit for the upcoming Homecoming week. Although there was some tension throughout the game and the weeks leading up to it, the juniors and seniors remained great sports and showed great school spirit throughout the whole event. 
About the Contributors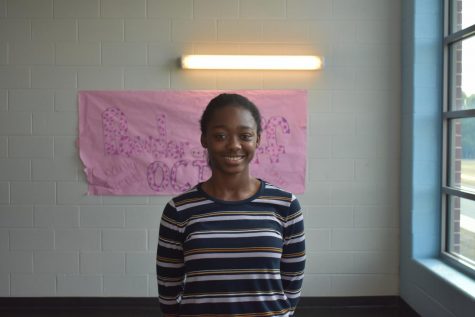 Madisyn Smith, Staff Writer
Madisyn Smith, a senior at Rock Ridge, enjoys playing soccer and listening to music. While most of her free time is spent on the field, the rest of it is spent correcting people who spell her name wrong.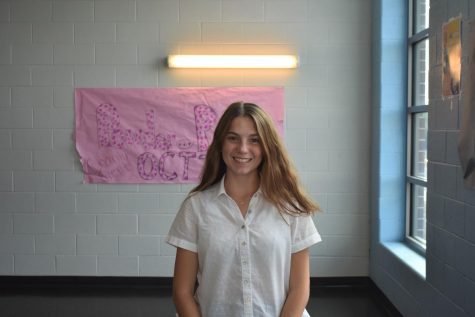 Annabel Reynolds, Staff Writer
Annabel Reynolds is a Senior at Rock Ridge and a first-year Newspaper member. All 5 feet and 3 inches of her is filled with love and compassion for everyone and everything: ranging from animals and art...
Kaley Chinoy, Staff Writer
Kaley Chinoy is a junior at Rock Ridge High School and has been on the varsity cheerleading team for two years. When not cheerleading, Chinoy enjoys hanging out with friends and family.