Practicing the art of giving back with the new National Art Honors Society
Senior Cara Manning and art teacher Heathre Mills have worked together in order to launch a new Rock Ridge chapter of the National Art Honors Society, and they're focused on making a positive impact.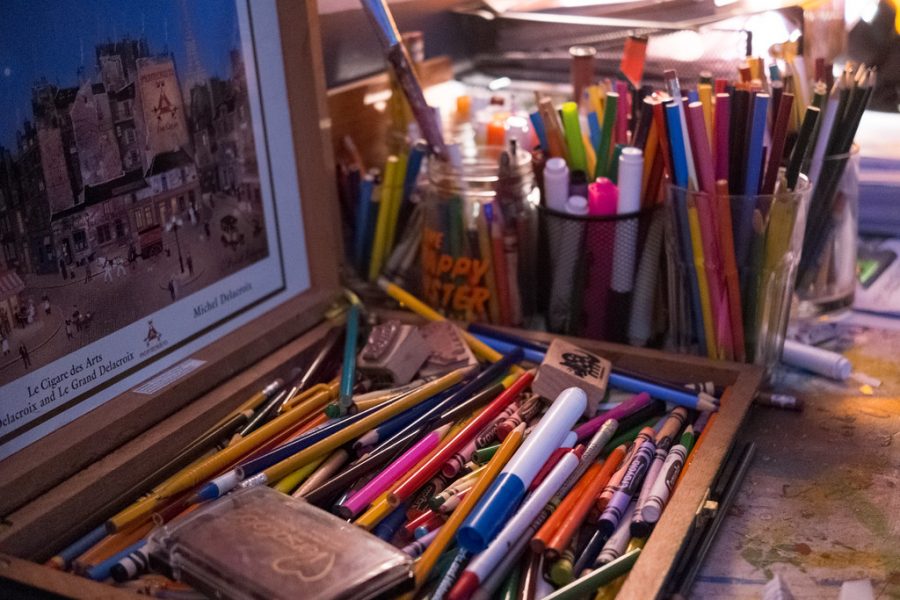 Rock Ridge is home to multiple honor societies of different subjects, such as science, English, and even foreign languages. This variety is due to the vast amount of passionate, dedicated students who are willing to find ways to give back to the community using their talents. This year, one student in particular has done just that with the start of the new National Art Honors Society. 
Senior Cara Manning has taken her own passion for art and is currently president of the new honors society. "I'm really creative, and I want to be able to do something that would [not only] show my creativity, but also other people's," Manning said. While it's going to be a bit of effort to get everything started since there is no base to build off of, Manning has started creating a website and determining initiatives for the society. 
One of those initiatives is a plastic bag drive, where the Art Honors Society will collect plastic bags in order to turn them into mats for the homeless in D.C. Manning decided on this initiative in particular after considering "the whole issue with the plastic in our landfills" affecting local areas such as Leesburg, she said. The sponsor for the Art Honors Society, art teacher Heathre Mills, said that the idea was so the homeless in D.C. could "have a mat to sit on or sleep on that is waterproof and that can protect them from the elements somewhat from the ground." Through these initiatives, the club strives to "be part of a larger community and network for artists, but to also have a vehicle for creating artwork that affects the community," Mills said. 
Aside from cultivating ways to have a positive impact in the community around them using art, the society also makes sure to create an open, creative environment for its members.  "It has a nice vibe to it, everyone's really welcoming and everyone's really open to hearing new ideas. It's very collaborative," senior Rania Abdullah said, a member of the club. "Everyone gets to hear everyone's ideas, and then we get to talk about those ideas and how they can work into our club," she said.  
The Art Honors Society is less of a selective group of individuals and more a group of creatives working together to make a difference. In order to join, all that is required is to be enrolled in an art course at Rock Ridge while having a minimum of a 3.0 GPA.