Phoenix Welcome New Athletic Season with Winter Sports Tryouts
Rock Ridge held its annual winter sports tryouts the week of Nov. 11 through to Nov. 14. Coaches and athletes alike prepared for another great season during tryouts.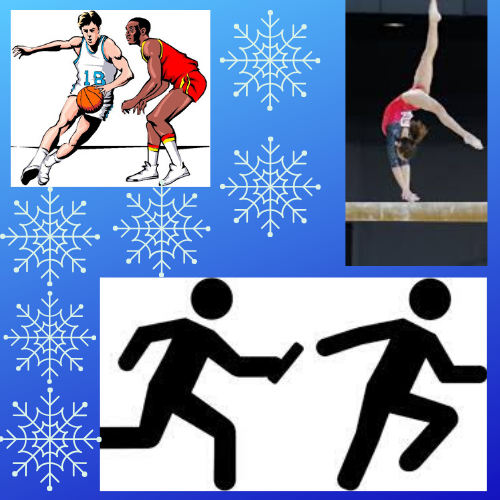 The first day of tryouts for Rock Ridge's winter sports was held Nov. 11 after school. All athletes gathered to their designated try out areas and showed off their best skills to coaches from Nov. 11 to Nov. 14. On Thursday, team rosters were sent out.
 As the Monday of tryouts rolled around, the excitement for the popular sports of basketball, swimming, gymnastics, winter cheerleading, wrestling, and indoor track began. Tryouts were run differently based on the sport that was evaluated. Junior Niki Oberoi tried out for gymnastics. On the first day of tryouts, Oberoi said that they stretched and the coach told the athletes how tryouts would work. After discussing tryouts, the team was evaluated on all events. After making varsity, which was announced Nov. 14, Oberoi said that she was most excited to "get new skills and hopefully compete them" this season. 
Another student athlete, junior Haley Priftis, found out she made varsity girls basketball on Nov. 14 as well. While she was very excited for the season, she had been on the team before, and said that it can be difficult "to balance getting little sleep and practicing for two hours in the morning and then getting ready for games after school." On tryout week, she tried to focus on getting prepared for the big time commitment. Although there is a lot of time commitment for tryouts and practices, Priftis said, "I like being apart of a team, being an athlete, and I just think the grind in the morning before school is very worth it."
Tryouts for winter sports is not only a time of excitement for athletes, but also for the coaches and managers of the teams. Senior Ramsha Naiyer was positioned as the manager of the girl's varsity basketball team this season. Naiyer said that she will be going to all of the team's practices and that her favorite part about managing last year was "helping out with the girls and everything they need, and setting up everything for them."
The week of winter sports tryouts was a great way to begin the 2019-2020 season. During the week, athletes worked very hard on showing off their best skills and preparing for the upcoming season. Managers and coaches have also been preparing their schedules for this season and are excited to see what it brings. Go Phoenix!