NEHS Wraps Up Pajama Project With Christmas Spirit
National English Honors Society celebrates the end of their pajama project with a "Polar Express" movie night.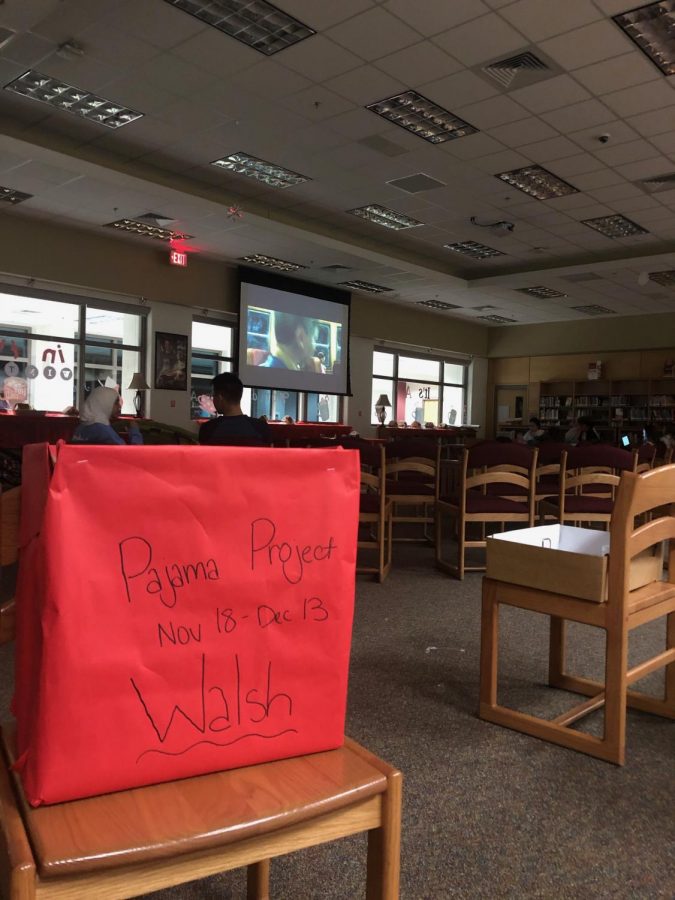 Dec. 11, 2019, the National English Honors Society held a "Polar Express" themed movie night to celebrate the end of their Pajama Project Drive. NEHS collected books and pajamas from the week of Nov. 11 to the week of Dec. 16. Throughout the time of the drive, decorated boxes were set up in most of the English teacher's rooms for student's to drop off donations.  
NEHS president senior Kate Bishop was inducted into the honors society as a  junior and became president at the end of her junior year. Bishop, along with the other NEHS officers and members, worked hard to put together the community event. Other than having fun and celebrate the holidays, the event served as the culmination of the Pajama Project Drive. "We encourage people to bring in new kids' pajamas or gently used books and that will all go to underprivileged kids in Loudoun county that may not have those things," Bishop said. 
The movie night attracted many students, including sophomores Yasser Mengaoui and Ariana Snekeim. "I feel like it's a Christmas tradition. I don't celebrate Christmas, but every Christmas time I watch this movie ["The Polar Express"] with my friends and family and it just makes me feel joyful for a new year," Mengaoui said. 
The food was also a favorite. "It was fun, I liked the food," Snekeim said. Along with the Pajama Project collections, the movie night was also an opportunity to further benefit NEHS.
"The concessions we're selling go back towards NEHS for things the chapter may need in the future,"  Bishop said. 
This was the honor society's first event of the year and they plan on having more, including an open mic night on Jan. 16 and another in April at RRHS.