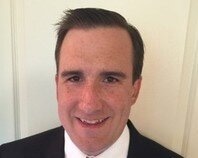 Christopher Berger
Question: What classes are you teaching this year?
Christopher Berger: Personal Finance and Intro to Culinary Arts.
Q: How long have you been teaching?
CB: I am a Career Switcher, so this is my first year as a teacher.
Q: What are you most excited about for this year? 
CB: My favorite part of any job is getting to meet and work with new people, so I'm excited to get to know my fellow teachers and students.
Q: What do you like most about teaching? 
CB: Whether teaching, coaching or mentoring, I love enabling the success of the person that I am supporting.
Q: What are some of your interests? 
CB: I like to work in my garden, cook, exercise, read anything, and watch sports.
Q: Do you have a fun fact about yourself that you would like to share? 
CB: I'm a cat person.  Our family has an orange and white cat named Cheeto.
Q: Is there anything else you would like your students to know about you? 
CB: I can't wait to figure out what I want to be when I grow up…