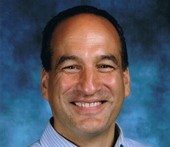 Scott Schwarz
Question: What classes are you teaching this year? 
Scott Schwarz: English 10A and English 12A
Q: How long have you been teaching and, if applicable, where else have you taught? ​
SS: This is my 25th year of teaching. I taught for 16 years in Michigan. Then I moved to Virginia in 2013 where I taught at Stone Bridge High School for five years and then at Loudoun Valley High School for three years.
Q: What are you most excited about for this year? 
SS: I am most excited about being a part of the Rock Ridge English team and helping my students. 
Q: What do you like most about teaching? 
SS: The most satisfying aspect of teaching is interacting with students and mentoring them.
Q: What are some of your interests? ​
SS: My interests are gardening, songwriting, and world history.
Q: Do you have a fun fact about yourself that you would like to share? 
SS: I was a radio announcer for several years in the 80s.