Hungry? Try Online Dating
Noa is a young woman navigating her way through online dating. After making an impulsive decision for love, she finds herself struggling to survive her new boyfriend's appetite.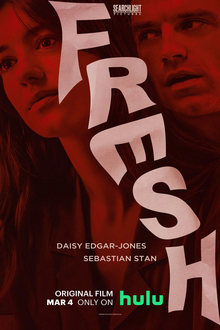 Warning: Disturbing violent content, inappropriate language, sexual and graphic images
On dreary Saturday evening, a miserable young woman is on a casual date with yet another loser. Noa, played by Daisy Edger Jones in the film "Fresh," has been scrolling through numerous online dating apps in hopes of finding a potential boyfriend, only to be let down by several men lacking general decency. As Noa picks at her food, the man proceeds to comment on how she doesn't fit the standards of a woman. He  hoards the leftovers for himself like a true gentleman and ends the date by insulting her after she refuses to kiss him. 
Noa starts to change her perception on dating as it becomes increasingly irritating to deal with awful men. She decides dating isn't in the cards for her. Then she meets a tall, striking man named Steve, played by Sebastian Stan, who charms her with cotton candy grapes. His dark, friendly eyes and suggestive smirk leads her on. The two flirt near the produce section and exchange numbers. As things start to escalate, Noa changes her negative perspective on dating. He seemed too good to be true. His charm and attractiveness blinds her of any red flags. 
After several weeks, she agrees to go on a surprise trip with this mysterious man she recently met who has no social media. What could go wrong? 
"Fresh" is a disturbing and gruesome horror movie that keeps viewers curious about Noa and Steve's questionable relationship. The movie was released on March 4 2022 exclusively on Hulu. This horror film features gore and blood, as well as jaw-dropping plot twists. While other horror films tread along similar plot lines and take predictable paths, "Fresh" keeps the audience on their toes. 
Steve's appealing personality and good looks blind Noa to all his red flags. She tells her best friend, Mollie, about the "surprise trip," which concerned her. Noa's impulsive decision for love leaves her waking up in captivity, chained to the ground. She soon discovers that Steve is a sociopathic cannibal who attracts women to harvest their body parts and sell them for consumption. 
After being drugged, Noa finds herself in a small dark room with dim lighting. There are no windows and the walls are a dark shade of gray. She wakes up on a mattress, unsure of what happened. The camera pans to Steve sitting in a chair, with a grin on his face. The horror of Noa's fate sinks in and she pleads for help. 
Directed by Mimi Cave,  this horrid but compelling film pulls audiences into a gruesome story of a young woman grappling between life and death as she fights to survive her boyfriend's appetite. 
Along with the repulsive plotline, "Fresh" takes a strong feminist perspective as it demonstrates the toxic masculinity and brutality that women face. It's a disturbing look at modern dating from a female's point of view. Steve's ability to attract women allows him to take advantage of them, which displays the reality that many women go through. 
Although there are many gut-wrenching scenes, the real horror is in the film's take on modern dating. As technology advances, communicating with others becomes more accessible. "Fresh" raises the idea of the horrors of online dating for women. The growing anxiety of online dating challenges whether women should take the risk of trying it or not.
"Fresh" is recommended for viewers 18 and up. The film includes strong and disturbing content, violence, and graphic images. "Fresh" is available to stream on Hulu.