Rock Ridge Choral Director Jordan Markwood Sings His Way to Washington Post Teacher of the Year
Choir teacher Jordan Markwood has won numerous awards in honor of his excellent teaching skills, such as the 2022 Washington Post Teacher of the Year and 2023 Region 4 Teacher of the Year. In addition, Rock Ridge was named a VMEA Blue Ribbon school on May 25, gaining recognition in "excellence in band, orchestra, and choral performance."
Facing a group of eager, beaming musicians, Fine Arts Department Chair and Choral Director Jordan Markwood rises from his desk, piled with lesson plans and concert programs, and prepares to hold an eventful choir rehearsal. Markwood often arrives at school by 8:15 a.m. to hold rehearsals, attend meetings, and help students prepare for auditions. On March 23, Markwood's dedication and love for teaching was recognized when he was awarded the Washington Post Teacher of the Year.
Teaching Trebles
Markwood began his career at Stone Hill Middle School in Ashburn, Va. In 2014, Markwood helped to open Rock Ridge and currently teaches five different courses — Musical Theater, Phoenix Chorale, United Sound, Chamber Choir, and Cantus Avem — in addition to juggling duties as the Fine Arts department chair.
He, like many other teachers, focuses on the amazing moments of education that inspired him to pursue this field. "I am blessed that I get to work with the same students for four years in a row," Markwood said. "You get to create strong bonds and relationships with them."
Through the RRHS Choral Department, Markwood has guided over 1500 students in pursuing their musical aspirations, from attending prestigious music colleges like Berklee College of Music, to scoring a perfect score on the All Virginia Choir entrance exam. With his carefree spirit and attention to detail, Markwood employs a collaborative teaching style to help students fulfill their ultimate potential. Senior and Chamber Choir member Sneha Khandavalli has known Markwood for four years and felt greatly supported by him. "I've auditioned for All-State five times, and my goal was to try to get in at least once in high school," Khandavalli said. " I've been able to learn different singing techniques and audition the practice piece with [Markwood], and I was able to get in last year." 
Although teaching has been a lifelong passion for Markwood, 15 years of experience brings many interesting experiences, not all of which are joyful. Markwood cites his least favorite part of teaching as the behind-the-scenes administrative work including completing training, attending meetings, and filling out paperwork. "The majority of my time is not spent on planning lessons, it's mostly spent on doing administrative work," Markwood said.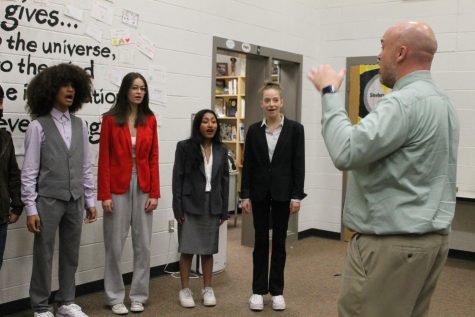 Tender Tunes
Markwood knew from his first preschool singing classes that he wanted to incorporate singing into his future career. "Because music was always the place that I seemed to excel, I was interested in pursuing something in music," Markwood said. Often found singing in the car with his family, he went on to participate in various distinguished operas at Houghton College, where he received his bachelor's degree in Music in Music Education as well as Vocal Pedagogy and Performance. "Because his pitch is so good, we would sing, and he would go, 'No, please it hurts [when his family would sing out of tune],'" Markwood's father, John Markwood, said.
"
"Because his pitch is so good, we would sing, and he would go, 'No, please it hurts!" "
— Markwood's father, John Markwood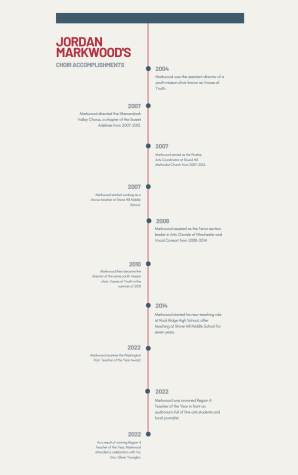 After he graduated from college, Markwood continued to pursue his passion, serving as the director of Voices of Youth, a youth mission choir, in 2010, after serving as the assistant director in 2004 and 2007. Once he began his teaching career, he directed the Shenandoah Valley Chorus from 2007-2013 and he currently serves as the director of music at Galilee United Methodist Church in Sterling, Va.
Supplementary Symphonies
Additionally, Markwood sponsors the Rockapella, the school's a capella group, as well as the Tri-M Music Honor Society, the honor society for music students.
Rockapella hosts weekly meetings every Friday at 8:30 a.m. in preparation for their performances at choir concerts. "I like how it gives students that don't take chorus classes the opportunity to sing and perform," Khandavalli said. "I also like how we sing a different style of music compared to the ones we sing in class."
Tri-M is an honor society where students participate in music-related service events, including hosting food drives and caroling at senior centers.
In addition to these responsibilities, Markwood serves as the department chair for the fine arts. Attending monthly leadership meetings, Markwood relays important information back to his colleagues, answering various questions and concerns before potentially escalating them to administration for further guidance. "I try to heed them off before we get into conflicts," Markwood said. "We're a small department, but we have big personalities."
Under Markwood's award-winning guidance, the choir department has also participated in various choir trips. In December 2019, they performed the national anthem at the Wizards games.
Honoring Harmonies
On April 18, Markwood was named the 2022 Washington Post's Teacher of the Year. After winning LCPS Teacher of the year, Markwood had to wait at least two months before he found out that he had received this prestigious award. "Mr. Duellman set up a Microsoft Teams meeting with the Head of HR, and she broke the news that I won teacher of the year," Markwood said.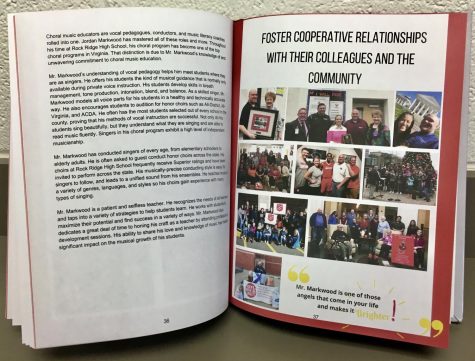 In order to be selected for the award, over 150 parents organized a 70 page book full of their memories and experiences with Markwood. The effort was led by the parent of junior Maggie Miller, Crissie Miller. As a part of the document, students, parents, fellow teachers, and principals shared their experiences and interactions with Markwood, with many claiming that he is one of the best educators they have ever met. "I have had the privilege of working with many talented educators throughout my career, but there is no one that I respect, admire, and aspire to be like more than Jordan Markwood," Dominion High School Choral Director My-Van Nguyen said. "Jordan never brings ego to the table. Jordan truly feels called to this profession and that his most significant contributions to the world at large will be through teaching."
As a part of winning Region 4 Teacher of the Year, Markwood also attended the Governor's Dinner in Richmond, Va where he was interviewed for Virginia Teacher of the Year. A reception was held later in the evening to recognize all the region teachers of the year as well as announce the Virginia Teacher of the Year.
Markwood is extremely grateful for the opportunity to receive such honors and stresses the effort of his students and their parents in his successes. "It has reminded me of how important it is to create those strong relationships, because it is not only these parents who have honored me by putting together that packet, but also the previous parents and students I have had who have sent me letters, emails, or [Instagram] DM's saying, 'This is awesome, thank you so much for everything you have done,'" Markwood said. "I like to call it my 'Mr. Holland's Opus,' and I'm nowhere near retirement, so I was like, 'What do I do with this boy?'"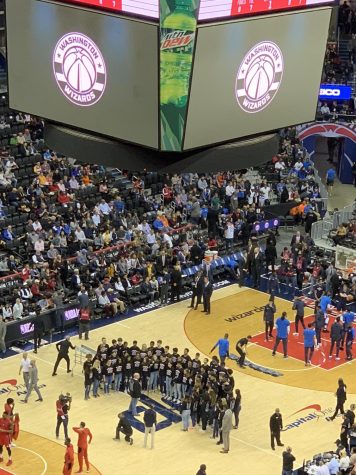 Special Sounds
After seeing the success of the program at a few other LCPS high schools, Markwood knew he wanted to implement United Sound at Rock Ridge. A music elective for students with intellectual and developmental disabilities, the program pairs special education students with band, choir, and orchestra students to help develop their musical ability and learn at a pace suitable to them. "[The best part is] seeing students creating authentic relationships as opposed to being mixed in and overlooked," Markwood said. 
Working with Program Coordinator Tiffany Bunstein, the class strives to "remove barriers and foster social change through music." The special education students are endearingly referred to as "new musicians." With the new musicians and their peers, the class is filled with high fives, encouraging words, and hugs. "It's hard at times, because communication is not that easy, but it really is a different level of communication and building community in music," Govindarajan, a United Sounds student, said.
First Falsettos
On Oct. 17, the choir department kicked off their 22-23 season with their fall concert, where they sang pieces including "O Love" by Elaine Hagenberg and "O-Re-Mi" arranged by Mike Brewer. For Markwood, this concert experience was rather stressful, but made easier with the help of a student teacher, Terrian Jennings. "To a certain extent, there was a disconnect, [because] normally, I'm [in school] teaching everything," Markwood said. "This time, I felt not as prepared, so I was super nervous — especially once I found out that there were going to be special guests like Senator John Bell." 
If Markwood was stressed preparing for the fall concert, he hid it well. "I have noticed that he never stresses out, and if he does, he doesn't show it," Govindarajan said. "He is calm, and he lets students do their thing and helps us when we need it."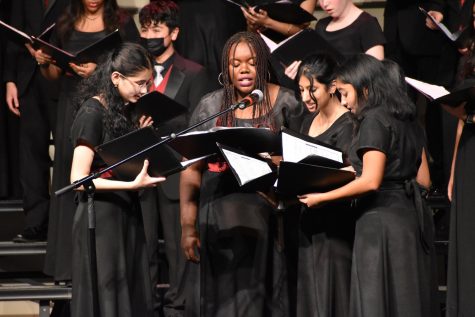 Although he has accomplished much in his 15-year career, Markwood still has his eyes focused on the future. He plans to organize and prepare a choir to perform at an American Choral Directors Association conference. "They are as competitive as can be, so to get selected, you're competing against performing arts magnet schools, where kids get voice lessons, vocal pedagogy; all those things in addition to choir class," Markwood said.
Throughout all of his accomplishments, Markwood said he is grateful to have so much support from the Loudoun community. "Just feeling overwhelmed by the outpouring of love and support has been awesome, and at times, I do not know how to react to it, because I don't do it for that," Markwood said. "But to know that you have touched so many people is really cool."