One Line, One Sound
The Winter Drumline, which has been working together diligently over the first semester, offered members a great way to brush up on techniques to become better percussionists — and also have fun as a team.
Excitement rises as the winter drumline director stands in front of the room and pulls up "Legatos B," the newest warmup for practice. Basses stand in a row by the left-hand side, snares one and two line up facing the director, and tenors stand beside the snares as they wait for instructions. Every member of the drumline is excited to learn the new piece of music.   
 The Winter Drumline shares many skills of the marching band, but only includes the percussion section. The members of the drumline either play bass drums, tenors, or snare drums. The main focus of the Winter Drumline is for the percussionists to expand their skill set while preparing for the upcoming marching band season. The members plan to improve as musicians and also eventually hope to perform at future varsity girls and boys basketball games. To be able to perform well at the games, the drumline has made a goal to practice new skills and techniques while still having fun. "Basically, our whole goal is to become better and have fun playing our instruments," freshman snare drummer Nila Divakar said.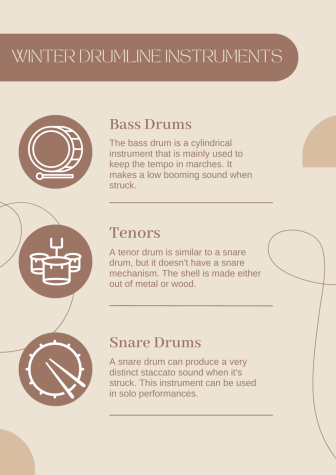 This is the inaugural year for the Rock Ridge Winter Drumline, and percussion teacher Patrick O'Rourke has taken on the role of the director of the band. "Drumming is such a physical art form," O'Rourke said. "Doing it more throughout the winter keeps your technique fresh and helps contain movement of the hands, build strength, and also grow in size." O'Rourke enjoys conducting the drumline and makes sure that the members are following the strict etiquette of the band to improve their skills. "It's a lot of work because when you're working with such loud instruments, you have to be very careful and not get too lazy," O'Rourke said. "We have a very strict etiquette in rehearsal, staying very silent the whole time, just so we don't go too crazy." 
While O'Rourke plays a major role in conducting the band, junior ensemble leader Shoumik Bisoi is also seen as a leader for the drumline members. Members of the drumline look up to Bisoi and consider him a role model.  "Whenever he's practicing and playing something, I always try to look at him and do the same," freshman snare drummer Karthik Mittadhoddi said. 
Being the ensemble leader is a lot of work, but it is also an enjoyable experience for Bisoi. "There's a lot of responsibility and there's a lot of people one or two years younger, not a lot of people in my grade, but I also think it's fun because there's different people learning how to play the drums," Bisoi said. He is proud of the group, and also tips on what the members can improve on, such as "getting a better practice regiment and taking time out of their day to practice."
Bisoi has a deep passion for playing the drums, and many drumline members are impressed with his commitment.  "During band camp, he was the only snare, so there was a lot on him," Divakar said. "Doing what he did during band camp wasn't easy, so he's someone with determination and love for what he does."
Bisoi has a lot of experience in drumline,  and he notices the skillset of the newer members. "They have a lot of potential for sure, they aren't used to the drumline setting, or practicing and rehearsing as much as we do, and with a lot of time, they will for sure get better," Bisoi said. Bisoi had second thoughts for conflicts with the timing in pieces, but the members have proved that they could handle it. "I thought we were gonna be a lot worse with the timing, but our timing has been pretty good so far." 
Members consider being a part of the drumline as an opportunity to improve their skills and prepare for the upcoming marching band season. "Drumline is a step towards getting better for marching band," Divakar said. "I feel like it's a stepping stone for that." During practice, the members mainly focus on their technique and timing, so that once the entire drumline plays together, it sounds smooth and clean. 
Members also enjoy the strong atmosphere of the band. "It's not as fun when you're just the one guy playing," Mittadhoddi said. Mittadhoddi has been playing the drums for ten years and enjoys the team-like atmosphere of the drumline. The members always make sure that everyone is up to speed when practicing, and they help each other out when necessary. "If someone is doing something wrong, you tell them what they're doing wrong and help them," Mittadhoddi said. 
The drumline members are committed to learning with each other and performing as a unified group. Overall, the Winter Drumline is enjoying the grind to hone their skills while also being disciplined at practice. "It's fun to get better, that's what we're learning," O'Rourke said.