Netflix Show Dives Into the Controversies of "Harry & Meghan"
On Dec. 8, 2022, Prince Harry and Meghan, Duchess of Sussex released a six-episode Netflix documentary about their relationship before and after leaving the royal family.
A Royal Debrief
On Dec. 8, 2022, the royal family and the world were rocked by the shocking details Prince Harry, Duke of Sussex and Meghan, Duchess of Sussex shared in their new documentary "Harry and Meghan." The show focuses on the couple's trials and tribulations from the beginning of their relationship to where they are now, and it's filled with everything the two of them went through together, and individually. Meghan had done an interview with Oprah Winfrey in March 2021, alluding to some of the racism and discrimination she had faced in the royal family, but the documentary series took the disclosure to the next level.
In Jan. 2020, Harry and Meghan made public their decision about stepping away from active duties in the royal family, and that they would not return. The two of them and their young son Archie originally lived in Canada during the Covid-19 outbreak, but they eventually relocated to one of Tyler Perry's estates in California in March 2020. Then in June 2021, they had a daughter named Lilibet. Months passed, and Meghan moved into one of Perry's estates, and he ended up giving their family a secure place to live.
Harry is the second-born son of the world-renowned late Diana, Princess of Wales, and the now-King Charles III. Diana died in a car crash at the age of 36, only a little over a year after her divorce from the then Prince Charles III. Charles took the throne after Queen Elizabeth II died in late Sept. of 2022. 
Meghan is a former actress and the daughter of Doria Ragland and Thomas Markle.   As the first biracial duchess — and the fact that she had been married prior to meeting Prince Harry — Markle started breaking stereotypes that had been set in stone for years when she married Harry in May 2019. With her outspoken nature and the media's outrage to her being with Harry, it's clear that she is not at all what the world expected of Harry's beloved. 
The Media's Backlash
Meghan was an actress in Hollywood, so it would seem as if she would know what tabloid toxicity looked like. However, nothing could prepare anyone for being thrust into a new life as the partner of a prince. The press proved again that it is, essentially, a void in which the public's opinions are shared out by men in cars trying to make the subject look bad to earn millions of dollars. Although there the duchess had to have an idea of what the press would look like, it didn't make the rumors or remarks any less hurtful.
The Royal Family themselves are not newcomers to handling press.  There's somewhat of a contract between the royal family and the media. Taxpayer dollars go to funding the royal family; therefore, the royals have to be "accessible to the public" at all times. This partially explains why the press is incredibly invasive — they believe they have every right to be. The paparazzi are often considered part of the reason for Diana's untimely death, as they were tailgating her when her car crashed.
In episode one of "Harry and Meghan," Prince Harry recalls his days at Eton after his mother died and how the paparazzi became much more demanding of him. They posted  headlines about his party endeavors or anything they could scrounge up from following him around the campus grounds, a rather inhumane way to try and get a young boy's attention. From a young age, Prince Harry and the rest of the younger members of the royal family were taught to smile and stare, which the prince kept up while at school.
His romantic endeavors, unfortunately, were on course to follow the same public fate. Once the duchess and Prince Harry were settled in after the press announced their relationship, the media took their opinions and flooded the news gates, diminishing the relationship between the couple rather quickly. At first, headlines were invasive but calm, but as time went on, they got much darker and scarier. Headlines were covered with untrue facts portraying that the duchess and her family were from high-crime parts of LA, much to the prince, the duchess, and her family's dismay, essentially throwing around casual racism and feeding it to consumers. 
On Dec. 16, 2022, a British broadcaster, Jeremy Clarkson, wrote in his article, which, by his request, got taken down [on The Sunday Times News Review], that he felt "hate" for Meghan. "Meghan, though, is a different story," said Clarkson "I hate her. Not like I hate Nicola Sturgeon or Rose West. I hate her on a cellular level. At night, I'm unable to sleep as I lie there, grinding my teeth and dreaming of the day when she is made to parade naked through the streets of every town in Britain while the crowds chant, 'shame!' and throw lumps of excrement at her." 
In the second episode of the Netflix series, Meghan said that she was never "treated as a Black woman" before the news of her and Prince Harry went public, and her mother never sat down with her and talked about racism until she was right in the middle of it, so that lack of preparedness could contribute to Meghan's shock at the headlines. The press became so bad that she, refused by the police many times, had to get a personal security detail after receiving death threats. Many of Meghan's friends were worried about her safety and took necessary precautions to keep her privacy while still shooting in Vancouver, Canada.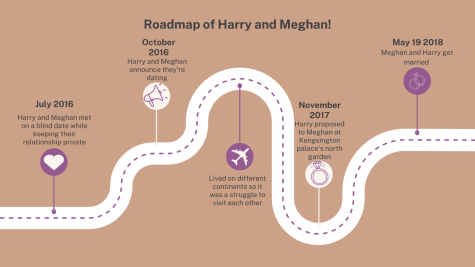 Familial Rifts
Harry explained on the show that he grew apart from his older brother William, as well as his father King Charles due to his marriage. Pressure had been building between the two brothers for a while, and for Harry, the tension became toxic after he announced his and Meghan's leave from the royal family duties. Ever since their mother passed, they have been living separate lives. In the 60 Minutes interview, Harry says in high school, William told him to stay away from him. The rift that occurred between the brothers caused a rift in the household, and eventually, their offices split into two.
After announcing their leave, Meghan and Prince Harry tried to relocate to remote areas. They tried an island, but it got swarmed by the press. They wanted to go to South Africa, but the news got leaked to the public. Eventually, Harry requested a meeting to talk about where they would live. When Meghan was still in the UK, Harry's first request was rejected.  It wasn't until Meghan had left for Canada again that his request was approved. During this meeting, Prince Harry chose a happy medium between the options he was given: Meghan and Prince Harry would have their own jobs, but they would work in support of the Queen. This decision caused Prince William to "scream and shout" at him, King Charles to "say things that weren't true," and Queen Elizabeth to sit in silence. Harry believes that William "bullied him out of the family." 
It makes sense that the royal family would split apart because of familial drama, but to the United Kingdom, they are the monarchy and the leading face of the British parliament. 
Commonwealth Day in March 2020 was the last official role the Harry and Meghan had before returning to North America and leaving the royal family behind them. The royal family is known for sweeping things under the rug and acting like everything is fine when they truly feel otherwise — like when they were outed for being racist — so it was strange for them to ice Prince Harry and Meghan out like they did.
The first time the family reconnected was at Prince Philip's funeral in April 2021, and while they were there, they discussed what Meghan had to say in her interview with Winfrey. 
Prince Harry isn't the only one with family issues — Meghan had her fair share after joining the royal family. Meghan and her dad grew up close, but now they no longer speak. Meghan shares in the show that the main reason Meghan's father is no longer in her life is because he was taking money from tabloids for providing staged photos. The media was at play in the rift between Meghan and her father, but ultimately it was his choice to betray Meghan that led them to that point. 
The Sudden Twist
For a while, the media was supportive of Meghan. But then she got too popular for the media to be comfortable, and that's when the tabloids attempted to squash their popularity standings by calling Meghan a diva — or worse. Headlines began circulating to criticize Meghan's every move, even if the headline was hypocritical. Everyone was breathing down the duchess's neck for protocols that didn't truly exist,despite her not doing anything wrong. The things they were saying about her were driven by racial stereotypes. 
Meghan thought no one believed these things, that they were all lies. When she realized people truly believed the media, she began to have thoughts about taking her own life, claiming it was "clear thinking," which scared her. In episode four, Harry claims that he was "devastated" and he "never believed it would get to that stage." He didn't take Meghan´s mental health problems  as seriously as he should have, and instead looked at it with a clinical view instead of a supportive one. Both Meghan and Diana suffered from mental health issues while a part of the royal family, making them more similar. Harry also inadvertently made himself similar to his father: they both didn't do what they should have done when their wives were clearly having a hard time.
All in all, this show is a testament to both the sacrifices that Prince Harry and Meghan had to make over the years and also to their strength. 
"Harry & Meghan" is available to watch on Netflix.