Long-Awaited Brambleton Library Opens
The new library is located in the middle of the popular Brambleton Town Center and will benefit the entire community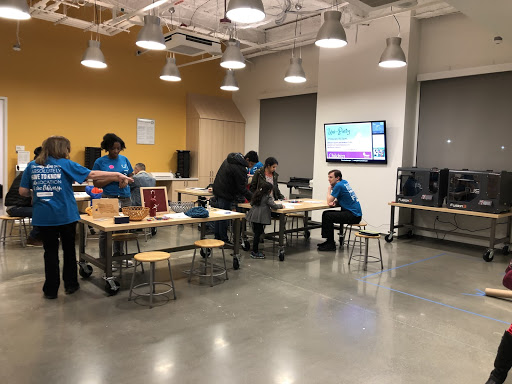 On December 1, 2018, hundreds of people crowded the Brambleton Library as an ornamental ribbon was cut to celebrate its grand opening. Located in the Brambleton Town Center, the new library is a lofty 40,000 square feet. Given the central location, the state-of-the-art facility will be utilized by high school students in the area. In fact, according to the Loudoun County Public Library webpage, this library is expected to be the busiest of all the Loudoun County Public Library branches. Packed with collaboration rooms, a makerspace, a gaming room, and a recording studio, the library is ideal for innovation.
Students at Rock Ridge High School flocked to the opening of the new library. Sophomore Sanya Shetty was excited to utilize the new space. "The location is very convenient to go and do homework with peers on school nights and has a great atmosphere in general," she said. Shetty also plans on going to just check out the broad selection of new books.
Other students are more interested in using the makerspace with 3D printers and recording studios. Sophomore Mary Zeno intended to start exploring the world of 3D printing. Zeno said, "The new library gives everyone around Loudoun County so many new opportunities which we didn't have before. The 3D printer is what I'm looking forward to the most right now."
The ten collaboration rooms provide a quiet area to study alone or function as meeting rooms. The sleek architecture and modern furniture surrounding the teen area, found on the upper floor, create an open ambience.
"This library is going to benefit our entire community and the long-awaited time for the opening was definitely worth it," said sophomore Neha Dacherla. The new Brambleton library is sure to be a big hit for kids, teens, and adults all around.