On Oct. 26, the front of the stage in the auditorium was appropriately adorned in a collection of Halloween-themed decorations, including skeletons, pumpkins, jack-o-lanterns, and even a miniature version of the famous Stay Puft Marshmallow Man from the "Ghostbusters" films. The Phoenix Orchestra echoed the mood of the festive decor with the themes of  a variety of classical orchestral pieces, as well as some seasonally appropriate Halloween and fall-themed songs, as they performed their annual Spooktacular collaborative concert.
Throughout the concert, audience participation was a key feature. The orchestra played  "The Itsy-bitsy Spider," featuring audience participation involving moving one's hands and fingers in a variety of motions corresponding with the lyrics. They also played an orchestral version of  "Baby Shark," featuring call-up performances from the audience where they acted out the dance associated with the song. Finally, they performed a simplified version of the famous 1812 overture, which included a live bass drum to represent cannon fire, which the audience was encouraged to support with a loud interjection of  "BOOM!" 
The Spooktacular Collaboration took place during the school day, which invited special education students to sing with the orchestra and interact with them. Junior Tiffani Nguyen, who has been playing violin since the sixth grade, was excited for the Spooktacular. "It's supposed to be a fun way to interact with the special education students at Rock Ridge and to have a chance to hangout with them, and also incorporate them into the play, as well," Nguyen said.
Story continues below advertisement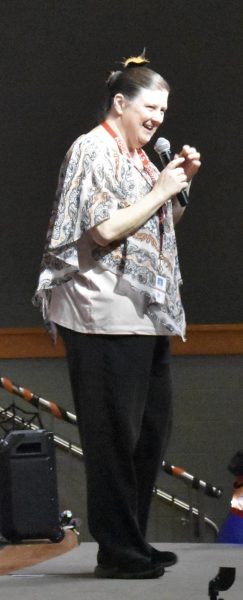 Phoenix Orchestra conductor Teresa Gordon acknowledged that such a presentation of musical scores could not possibly come on a whim. A great deal of practice and preparation had to go into this event for everything to click. "It's quarter-long planning," Gordon said. "We learn a bunch of stuff in the beginning of the school year and [then] we have our annual thing that we do."
The collaboration of the fine arts department with the special education students shows their dedication to creating an inclusive environment for everyone. The orchestra's next concert will be in December.