Do Dreams Really Come True?
Rock Ridge seniors anxiously discover their college decisions and are faced with difficult choices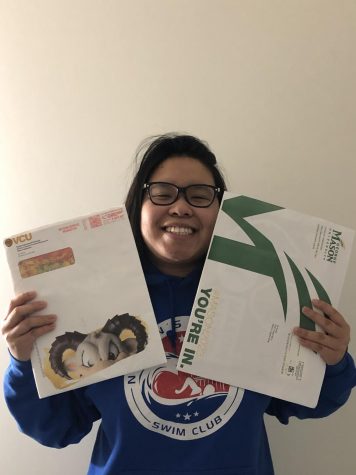 As second semester dawns, seniors anxiously await important news that will change the course of their lives: college decisions. Seniors must take their own preferences into account when choosing schools, while simultaneously keeping the financial burden on their guardians in mind.
Senior Ha Vuong has considered all the factors that will influence her final decision. "Out of the seven schools I've applied to so far, I have been fortunate enough to be accepted into four. While all of my schools are in-state and great options, both Virginia Commonwealth University (VCU) and George Mason University (GMU) meet most of my preferences," she said. Vuong aspires to become a nurse and travel abroad to practice medicine and help the less fortunate in third world countries. "VCU has an excellent medical program and I hope to become a nurse. . . . On the other hand, GMU is closer to home so I would be able to commute and save my parents some money, considering the fact that my career will require further education after I receive my bachelor's. Both schools also have very good study abroad programs."
Senior Sarena Oberoi plans to attend a four-year college with a major in psychology, and is eager to begin  her new college life. "While I am excited for the freedom and new experiences that college brings, I am nervous about being away from my family, especially my sister. We are so close, so it will be interesting to see how we do without each next year," Oberoi admitted.
Not all seniors, like committed Equestrian athlete Ana Bertozzi, share a sense of unease with their classmates. "I have not felt any stress since committing to Fresno, but the recruitment process was very stressful. I'm excited to meet new people and being in a completely new environment." Bertozzi said.