The Fire of Notre Dame
Fire devastates the 800-year-old cathedral in Paris, France on April 15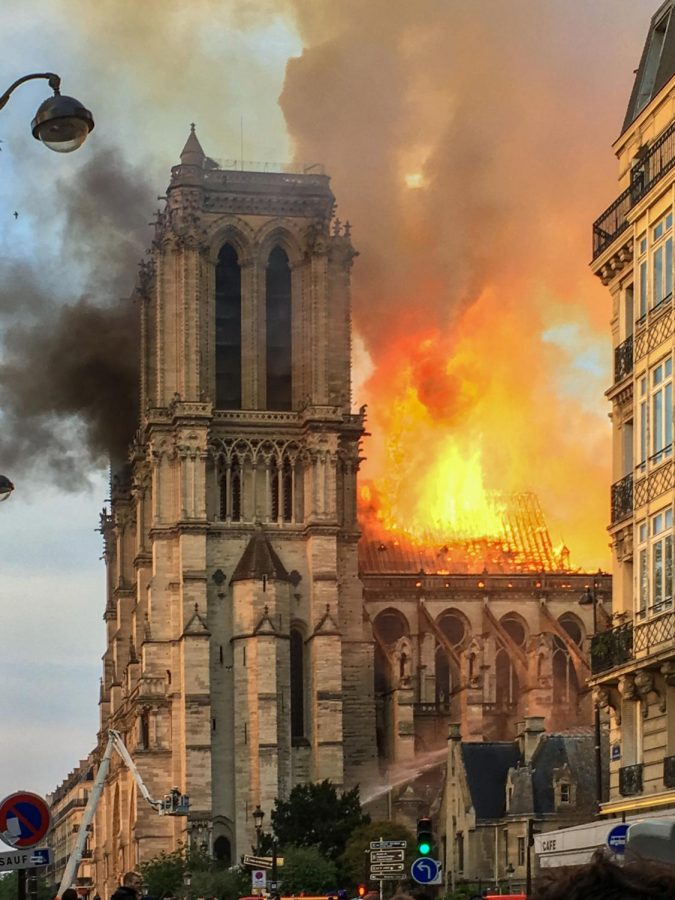 On April 15, at 6:20 p.m., a fire — ironically believed to have been begun due to renovation attempts — began to tear through the lead-and-wood roof of the Notre Dame Cathedral in Paris, France,  just days before Easter Sunday. Spectators, armed with their phones, gathered on the sidewalks below, and the world watched in horror as Notre Dame's spire — an icon that not only represented the cathedral, but all of Paris, some argue — began to fall. One firefighter suffered serious burns, but there were no reported casualties.
The twin bell towers, immortalized by Victor Hugo's "Hunchback of Notre Dame," survived the fire, as did the famed pipe organ, although it requires major restoration. Among the many relics stored in the Notre Dame, a good portion of them were transported safely out of the building, including the tunic of the Catholic St. Louis and the purported crown of thorns that was placed on Jesus' head in his crucifixion.
"In Paris, [Notre Dame is] a monumental symbol — every person with different religions are really moved and saddened," said a witness named Anne Marie, CNN reported. "Paris without the cathedral is not Paris anymore."
Another witness, Patryk Bukalski, was at a nearby café when a bartender told him that Notre Dame was ablaze. "It's a symbol of Paris," said Bukalski. "It's just sad. I don't know what more to say."
Notre Dame has long been recognized as a paragon of gothic architecture and is considered a valuable monument, and the destination of over 13 million visitors annually. Begun in 1163 C.E., the cathedral was finally opened for service in 1345 C.E. Over the centuries, it bore witness to a number of notable historical moments: it was the venue of Napoleon's crowning in 1804, was briefly rededicated to "the Goddess of Reason" during the Reign of Terror in 1793, and was the site of Joan of Arc's beatification.
French President Emmanuel Macron addressed his citizens that night. "Notre Dame is our history, it's our literature, it's our imagery. It's the place where we live our greatest moments, from wars to pandemics to liberations … I'm telling you all tonight — we will rebuild this cathedral together."