The Phoenix Girls "Kick-It-Off" At Senior Night
On May 9, the girls soccer senior night against the Park View Patriots resulted in a victorious score of 8-0 for the Phoenix. From candy leis to special baskets, the team was able to honor the seniors while also preserving the team chemistry.
On Monday, May 9, the Phoenix girls soccer team faced the Park View Patriots for senior night. The Phoenix were able to take an early lead and pushed through with senior Ayanna Fabunmi (6), senior Sofia DiFulvio (2), senior Liza McMullin (9), and freshman Kalen Walker (17) all scoring goals. The night resulted in a victory for the Phoenix with a score of 8-0.
Senior Aarushi Raghupathi (25) believed that senior night was planned perfectly. "The coaches and the rest of the girls on the team planned it so beautifully and made it really special for all of us seniors," Raghupathi said. "My favorite part was the candy garlands they put on us as we walked down the field with our friends and family. I have been a part of the senior night preparations many times before, so it was a surreal feeling being celebrated."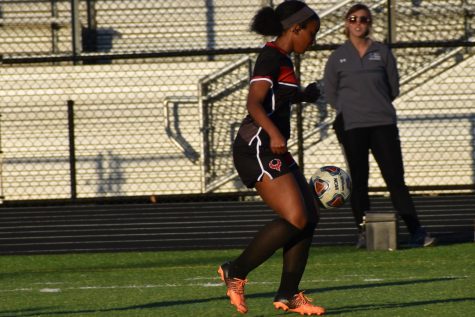 The underclassmen were each paired together and assigned to honor one senior. The pair worked  together to prepare a "senior night basket" filled with snacks, drinks, and more. "The younger girls made us posters and baskets full of our favorite treats," senior midfielder Liza McMullin said.
Freshman Joey Reynoso (1) played a big role in the festivities. "We decorated the stands and the bench we sat on," Reynoso said. "My mom and I made leis that have candy in them for the seniors." 
Afterwards, the Phoenix had a team dinner at Burger 21 to celebrate their win. 
The team received lots of support from others. "My friends came to the game and so did my favorite teacher, Ms. Menna," senior captain Sofia DiFulvio said. "We even had one of our old alumni, Aisha Ahmed, who plays soccer in college, surprise us at the game."
Many senior girls have played soccer for Rock Ridge for all four years, including DiFulvio. DiFulvio's primary position is holding midfielder, meaning that she plays defensively while also looking to play the ball forward and move it from side to side. "I've been playing since I was about 5 or 6. I played club [soccer] all throughout elementary and middle school," DiFulvio said. "However, during high school I just wanted to focus on school, so I played high school soccer." DiFulvio has been on the varsity team since her sophomore year. 
As a captain, DiFulvio always tries to keep the energy flowing regardless of a win or lose. "I like when the team is able to be positive and laugh around while also being focused," DiFulvio said. "During warmups, I try to encourage my teammates to play like they are about to in a game. This includes not warming up slowly or looking at the other team. It's good to focus on ourselves and play hard."
Another senior captain, Ayanna Fabunmi, agrees that it is important to create good energy amongst the team. "I try my best to be as energetic and weird as possible. I just jump around being annoying while trying to make my teammates happy," Fabunmi said. "The music helps and so does talking and having fun. Everyone plays better when they're in a good mood, and if I see one of my teammates looking down, I try my best to make sure they're okay." 
Raghupathi believes that she brings lots of good energy to the team. "Heads always turn to me when it's time to scream our chant. I scream 'we are' while the team follows with 'Rock Ridge," Raghupathi said. 
Fabunmi believes that the team harbors positive chemistry. "I love our team this year," Fabunmi said. "Even with the differences in grade level, I feel like the team is a lot more inclusive than in the past years. Our coaches are also great. They are good with compliments while also being hard on us when we need a push." 
Some players, such as Raghupathi, enjoy soccer mainly because of the team. "I enjoy playing soccer more for the team than the sport. Growing up, I always struggled to go out and make friends. However, with soccer, it is as if the people are set in place and it's up to me to build some sort of relationship with them," Raghupathi said. 
The next Phoenix girls soccer game will take place on May 16 at Rock Ridge High School against the Lightridge Lightning.