Students Stand Up Against Cancer
In the beginning of the school year, juniors Vishnu Nalluri, Michael Sing, and Kyle Loung started the Students Against Cancer Club in order to fundraise and raise awareness for cancer patients who can't afford treatment as well as donate to clinics fighting to find cures for cancer.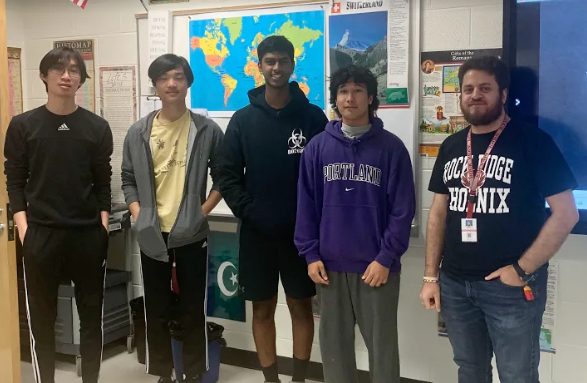 Hoping to leave a lasting impact on peoples' lives, junior Vishnu Nalluri founded the Students Against Cancer club after the club expo. The focus of the club is to raise money to help those who cannot afford cancer treatment, and for the scientists devoted to finding better cures for cancer. Nalluri plans to raise this money through fundraisers such as shoveling driveways for communities. 
In addition to Nalluri, juniors Michael Sing and Kyle Loung helped to form the club. They always knew they wanted to go into the medical field, but they didn't know what to do. They decided to start the Students Against Cancer club because cancer continues to be a relevant medical problem for many people in the world. 
Q: What made you want to start a medical club? 
Nalluri : We both liked biology and knew we wanted to be doctors when we grew up, so we decided [to] start making an impact right now rather than when we're older. We decided to do fundraisers to raise money.
Q: What did you hope to achieve through this club?
Sing: We didn't really care about how many members [were in the club], we just wanted to do something that's outside the general scope of things at school. We've set up a few big fundraisers; next year we're going to host a robotics tournament here, and we might earn a few thousand dollars from that [which] we're going to donate. This year we're mostly just planning out fundraisers; we were going to do a bracelets [fundraiser], but [another] club had the same idea and their fundraiser got approved first. We were also going to host a video game tournament which had an entrance fee, but if you win you get the whole prize pool. 
Q: Do you have a set foundation where the money goes?
Nalluri : We don't have a set foundation yet, but it's for anyone who really needs the money [like] if they're dealing with cancer and need treatment, but they can't afford it, or places researching cures for cancer. It's not really specific, but [we would donate to anyone] throughout the entire world. 
Q: Do you have anything to say for people who would be interested in joining?
Nalluri : If you want to join and help out, come talk to us. We'd really like it if more people joined, because it brings awareness of the club to more people, and that just gives us more people to help out during fundraisers. The bigger the club is, the more money we can make to help cancer [patients].