TSA Places Sixth Overall At This Year's State Competition
From April 29 to May 1, TSA competed in the TSA state competition and managed to secure eight trophies in various categories.
With only three articles of clothing and a little documentation describing the meaning of the pieces, your fate is on the line. Two judges gather around with a rubric to score your submission. Don't forget your sketches of potential pieces and patterns that you use — those are important to ensure a possible win. This event is in the Fashion Category in TSA's STEM competitions. 
TSA, or Technology Student Association, is a club in which students prepare to compete in several STEM-related categories. The organization has been around for several decades and places heavy  emphasis on competitive events. TSA has more than 40 areas to compete in, such as bio-technology design, animatronics, fashion, cybersecurity, and more.
TSA provides students with the opportunity to explore future careers. Competing in these events also gives students the chance to become officers for the state and region levels of the organization.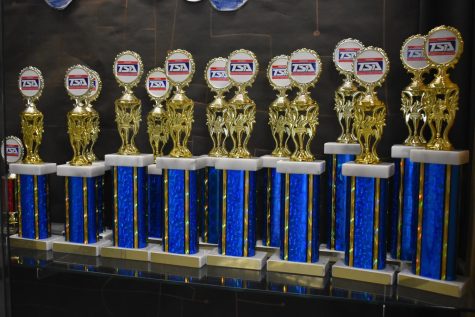 TSA members placed eight times for this year's state championship and set a new school record for the most wins in a year. Senior Sahil Mhatre has been in TSA for three years, and this year he serves  as vice president. "The kids that I've been working with for the past year all placed and were happy with themselves," Mhatre said. "It was a very proud moment."
Sophomore Jagadeepram Maddipatla competed in the Software Development category, placing second and granting him a spot at the nationals competition, which will take place on June 26. "It was a fun experience," Maddipatla said. "I did a lot of new things and met a lot of new people."
The team itself grew closer together while preparing for the championship. "The state events are really fun, because everybody spends a lot of time together and the TSA became really popular," Neha Bhusarapu, junior and president of TSA said. 
Ten TSA teams will head to Dallas, Texas on June 26 for Nationals.