Phoenix and Bobcats Go Head to Head in First Scrimmage of the Season
On Nov. 15, the Phoenix varsity boys basketball team played against the Battlefield Bobcats in their first scrimmage of the season.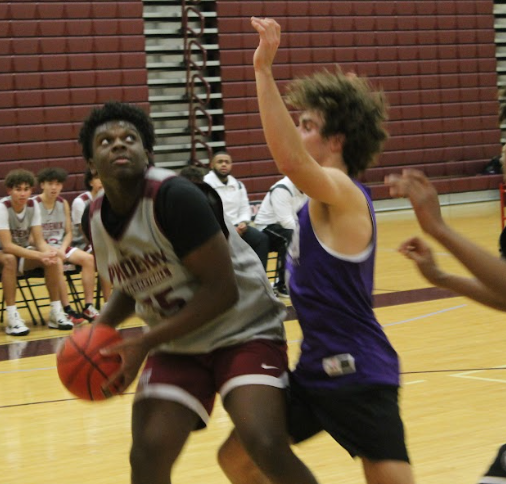 As the cold approaches and winter starts to settle in, winter sports have started to begin tryouts and practices. On Tuesday, Nov. 14, the Phoenix varsity boys basketball had their first scrimmage match of the season against the Battlefield Bobcats. Unlike regular season basketball games with a four quarter structure, the contest consisted of five quarters, which were seven minutes each. The scrimmage ended with the Bobcats winning three of the five quarters. Despite the Phoenix loss, the boys did well for their first time on the court, as even certain players from the bench got the opportunity to play. 
Head coach Jason Geyer led the team to a strong win. He has goals to improve on what the team started last year and to get a lot of wins. From his players, Geyer looks for skillset, commitment to the team, and to have fun while playing the game. He also looks for people who can lead and put their arm around teammates when needed. "All of our guys play a different role, some guys score a lot, some guys rebound a lot, some defend, and our first five guys [Trey Fitch, Basit Qadri, Nick Canfield, Daniel Okoye and Mekhi Motilewa] are really good," Geyer said. 
The boys are excited to get started in the new season, with the scrimmage proving to gauge their current skills. For new and seasoned athletes alike, scrimmage matches prove to help them get back into gear of playing in high school basketball. Junior TJ Desrosiers felt determined while playing. "Although I did not play that well yesterday, I will make up for it at the game Friday," Desrosiers said.
Looking forward,many players have sights set on an impressive season.. Sophomore Mekhi Motilewa focused on the  positives that happened during the scrimmage, like the team's great ball movement and offense. "I hold our entire team to a standard, which means showing up everyday and having each other's backs," Montilewa says.
Along with positives, the scrimmage gave insight on where to improve to the team, whether it's communication, coordination, or strategy. Junior Daniel Okoye recognized that there were improvements like moving the ball more efficiently in game. However, Okoye felt positive about coming back for another year. "It feels really good coming back, all the crowds and adrenaline," Okoye said. "This is what I love, to play basketball." 
The next Phoenix varsity boy's basketball game will be on Thursday Dec. 1.