Rock Ridge and Stone Hill Guitar Come Together for a Gemstone of a Winter Concert
On Dec. 13, the Rock Ridge guitar ensembles came together to perform a fun-filled and festive concert that included several solos and the Stone Hill Middle School eighth-grade guitarists.
On Dec. 13, Rock Ridge guitar held their annual winter concert, which featured the Stone Hill Middle School eighth-grade guitar ensemble. In total, 124 students performed seven songs, with the Stone Hill students showcasing their skills first and the Rock Ridge students playing second. Soloists from both schools also performed five additional songs, captivating the audience with their skills.
Directed by Dr. Matthew Dunlap, Stone Hill took the stage first to perform two songs: "Koi Under the Moon Bridge" by Travis Marcum and "Carol of the Bells," a traditional Ukrainian song arranged by. Luc Levesque. Afterward, a trio performed "Jingle Bell Rock" and a duo played "In the Hall of the Mountain King." Eighth grader Maneesh Getni also performed a solo, "Mood" by 24kGoldn, on his electric guitar. "I'm proud of myself," Getni said. "A lot of practice led up to this moment."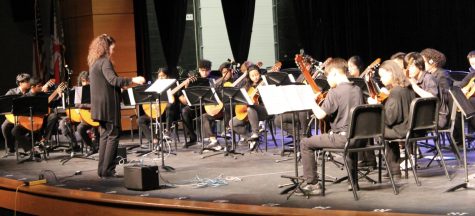 Directed by Teresa L. Gordon, the Rock Ridge Combined Guitar Ensemble then performed "Au Claire de la Lune," a French folk song, "Canon" by Johann Pachelbel and arr. Travis Marcum, and "Jingle Bell Rock" by Bobby Helms and arr. Miroslav Loncar. During their last song, "Jingle Bell Rock," they also invited a volunteer from the audience to help play the jingle bells for them.
Freshman Parth Jaiswal, who has been playing guitar for one and a half years, prepared for the concert by playing along with recordings of the songs online. "We sound really good in class," Jaiswal said. "Hopefully, we sound as good in the concert."
Next, senior Noah Chang, a member of the Rock Ridge Artist Guitar Ensemble, performed "The Legend of Hagoromo" by Keigo Fujii. The song tells the story of a maiden who descends to Earth and hangs her Hagoromo, a feather robe, over a tree while she bathes. A fisherman discovers the robe and decides to take it. He refuses to return it to the maiden, despite her needing it to return to the Heavens, until she performs a heavenly dance for him. 
Chang, who has been playing for five years, first became interested in playing the guitar when he was little. "Back a long time ago, when I was like seven or eight there was this song on the radio, 'Somebody That I Used to Know,' and I really wanted to play that song," Chang said.  "I told my parents that I wanted to play guitar, so they made me play piano. Later in life, I was allowed to play guitar when they started offering it in middle school."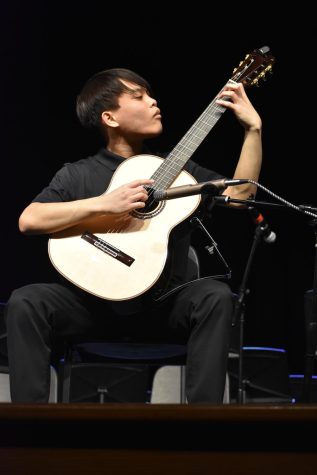 Following Chang, senior Hannah Adnan, a member of the Rock Ridge Artist Guitar Ensemble who has been playing guitar for five and a half years,  performed "Have Yourself a Merry Little Christmas" arranged by Adrian Woodward. 
As the  soloists finished their pieces, the Rock Ridge Artist Guitar Ensemble took the stage, directed by Dr. Nataša Klasinc-Lončar, to perform "Ama Gochoa" arranged by Francis Goudard and "Autumn Salsa" arranged by Miroslav Lončar. 
Guitar will return to the stage this spring with a concert to conclude the school year.