A Deep Dive into the Early Childhood Education Courses
The Early Childhood Education (ECE) classes are filled with unique learning opportunities that range from projects to hands-on learning. The total student count for the ECE course as a whole is below 25, and they're always ready to accept more students.
Tucked away in a far corner of the academic wing in the L500s hallway is the Early Childhood Education (ECE) classroom. The three courses are taught by family and consumer science teacher Shannon Hunter. The courses start at intro to ECE, then move into ECE I and II. Subjects taught within the course range from how to take care of infants, what careers are in ECE, and other subjects related to childhood education.
ECE as a whole centers around learning about and dealing with children that are at the toddler age. It can be difficult for a teacher to explain how to handle a child that young if you're teaching through a traditional powerpoint or slideshow format. Hunter's solution to this was to completely overhaul the teaching style for a more hands-on approach. Each ECE course level from intro to two now focuses on something different.
Course Content
Intro to ECE focuses on teaching students the basics in childhood education. "The intro to early childhood class talks a lot about child development," Hunter said. Alongside learning the basics, students are also given time to explore different careers in this field, such as being a teacher or a childcare center worker.
The ECE I and II courses focus on a hands-on approach that builds off of what was learned in the intro course.
All ECE classes teach students a multitude of different skills such as workplace readiness skills, family-life balance skills, and career specific technical skills. The skills that are learned from this course are some of the major driving factors for why students, like senior Manas Tankala, took this course. "I thought of joining because there was one career I wanted to try that works with high school level kids," Tankala said. "I thought to myself  'you know what, I'm going to have to teach them grammar and all that,' so I [choose to] switch my career [to something else that's] still in [a classroom setting], just to get some good life skills." While each ECE class teaches the same core concepts, how they teach is different for each level.
Day to Day Lessons
Occasionally, as a break from the material that Hunter directs, students are given asynchronous projects that build off of what they're learning, such as caring for a newborn doll for infant care, or researching a specific career they're interested in.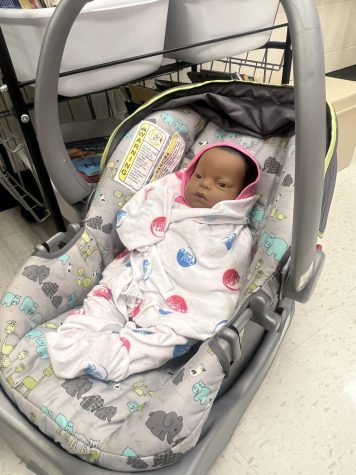 ECE I and II separate themselves from the intro course because they work with the Head Start Program. The program is provided by Rock Ridge and acts like a miniature preschool inside a classroom, and is filled with around 20 students, ages three to four. It works in conjunction with ECE to provide those students with hands-on learning of what it's like to actually work with kindergarteners. While the Intro course doesn't really work with the program outside of some apprenticeship here and there, the ECE I and II almost entirely works with the program. "The Early Childhood I course goes into Head Start every other class," Hunter said. "The Early Childhood II course goes in every single day, and your work would be asynchronous." 
Students aren't required to, but some head to school early at around 8:30 a.m. to help the kindergarteners off the bus and lead them into the classroom.
Who Takes This Course
The class size of the ECE course as a whole is below 25 students. "Right now I have seven [students in] ECE I and II combined," Hunter said. "Six of them [are] in ECE I and one of them is in ECE II. My Intro class has about 14 [students]." Most kids would want to take this course because of the Head Start Program and working with little kids, which was halted during COVID.
The classes aren't designed to be stressful and instead give exposure to students. "They're pretty casual," Hunter said. "Most of the time, people take them because they want to get some sort of exposure to little ones."
Some students, like Tankala, took this course because of the skills they learned from it. Others take it just for the exposure to the little ones and how they act. Students like junior Kalya Horiuchi take it because of an existing interest in careers in Early Childhood Education. "I wanted to learn about child care through the program, [and] maybe get a job with children," Horiuchi said.
Students who are interested in taking these courses or who just want to learn more about early childhood education can go to room L503 and talk to Hunter about the course.