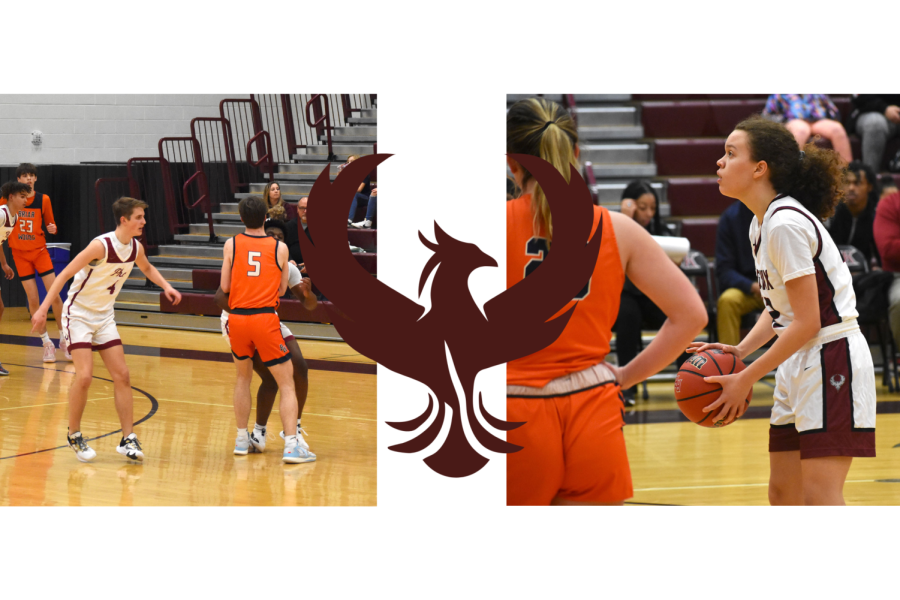 Double Headers Bring 2 Star Players Forward
As the basketball season comes to an end for this year, two players continue to stand out as "glue" for their teams: senior Nick Canfield sophomore Kalen Walker. These two players have encouraged and inspired their fellow athletes.
January 31, 2023
As the Phoenix basketball season approaches the final weeks of regular season play, senior Nick Canfield and sophomore Kalen Walker are proud of their time on the court thus far.
Both have had a long history of playing basketball. As Canfield prepares for graduation, he looks back on his last four years on the boys basketball team. As a young member of the team, Walker builds memories and skills and looks forward to the future of the Phoenix girls team.
Check out their profiles below to learn more about their stories.
Nick Canfield
Playing basketball for a total of 12 years, senior Nick Canfield has a history of being  a star player off and on the court. "Nick has always been 'team first' since the beginning," boys basketball coach Jason Geyer said. "He brings energy and enthusiasm in everything he does. Whether he is having a good day or bad day, whether he is playing well or not playing well, or whether he's on the court or on the bench, he always brings energy and enthusiasm."
Canfield has been confident that his contribution to the team has had a positive effect on the team's confidence. "In a sports sense, I think that I'm able to make everyone's jobs a little bit easier," Canfield said. "I'm not the type of person to go out and score 20 points a game, but we have Mekhi [Motilewa] and Basit [Quadri] who do that. But at the same time, they are playing 32 minutes, 3 games a week, and I think I do a really good job taking [extra pressure] off their shoulders."
Fellow teammate junior Kyle Desai agrees that Canfield is a leader to the team. "He's very vocal and gets everybody involved. Whenever we're down, we can always rely on Nick to bring us back together," Desai said.
For Canfield, basketball has taught him all sorts of lessons. "You learn how to communicate through various people and all sorts of different circumstances," Canfield said.  "Effort pays off. It might not show or come through the first couple of times you do it, but eventually it will pay off and it'll come through." He also gives similar advice to younger players on the court, insisting that communication is key to having a successful game. "It might not seem like it helps out, but if everyone on the team is talking and communicating, it creates a great atmosphere and great energy on the court," Canfield said.
Leave a Comment
Kalen Walker
This year was the first year sophomore Kalen Walker played on the varsity girl's basketball team for Rock Ridge, although they have been playing basketball for almost all their life. Walker got inspired to play sports from their older brother. "[My brother] coached me through other sports, and I followed in his footsteps," Walker said. They have also played soccer and football.
When they were a freshman, Walker was pulled up to play with varsity. "I felt really proud of myself because I went from freshman [team] to varsity in a couple months," Walker said.
They have played on the girl's varsity team for a year. "[My favorite memory] this season was when we were all lifting weights in the workout room and we were all kind of encouraging each other," Walker said.
This has caused Walker to feel "in the middle" of the older girls and younger girls on the team. They feel as though there "is a split dynamic between the older girls and the younger girls."
According to Walker, the dynamic is strong when the five starters — them and four upperclassmen — are on the court together. Walker is one of the five starters and a "valuable part of the team," according to senior team captain Sruthi Dacherla. "[Walker] is our hustler. They are the most aggressive at getting the balls and getting steals," Dacherla said. 
Agreeing with Dacherla, head coach Gordon Neal supports Walker in their work on the team. "Kalen is a hard worker with great potential," Neal said.
Walker believes that they bring "more energy and positivity" to the team. Since they are a sophomore, some of the younger teammates feel more comfortable asking them questions. They advise people to "encourage themselves and better themselves, or at least give their 100% in everything they do."
Leave a Comment