Electives Fair Entrances Participants
The annual electives fair allowed freshmen, sophomores, and juniors to look at options for electives that they could take the next year in order to enhance their schedule.
Electives allow students to pursue their interests and give them autonomy over their education and school schedule. 
The fair was about an hour long and took place on the morning of Friday, Jan. 13 in the library and the main school gym with teachers presenting the electives. The electives displayed in the library mainly pertained to core subject electives like history and math, whereas the electives in the gym were more catered to interests in the english and science areas. The event was structured to allocate time equally between freshmen, sophomores, and juniors and was conducted on a rotational basis. Given that it was the first year organizing it in person after years of a virtual electives fair, the event helped students to begin thinking about their future schedules.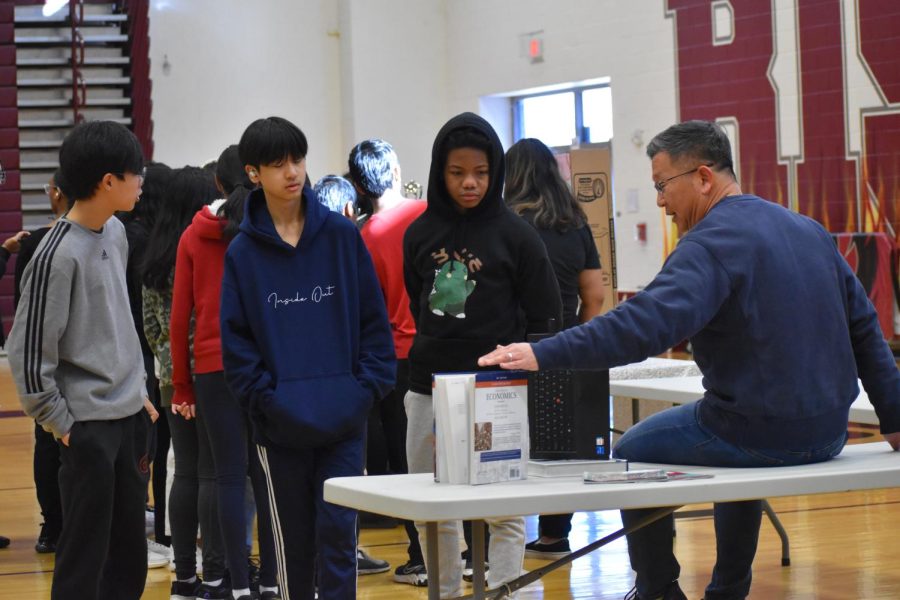 Kim Makes AP Economics Possible: Social sciences teacher Peter Kim holds a presentation on why students should take Advanced Placement Microeconomics/Macroeconomics as one of their possible electives for the next school year to freshman Joon Hwang, Mahyas Jami, and Jeffrey Choi. "They all asked really good questions, and I already see a great interest [in the elective] for next year," Kim said. 
Photo by: Aarohi Motwani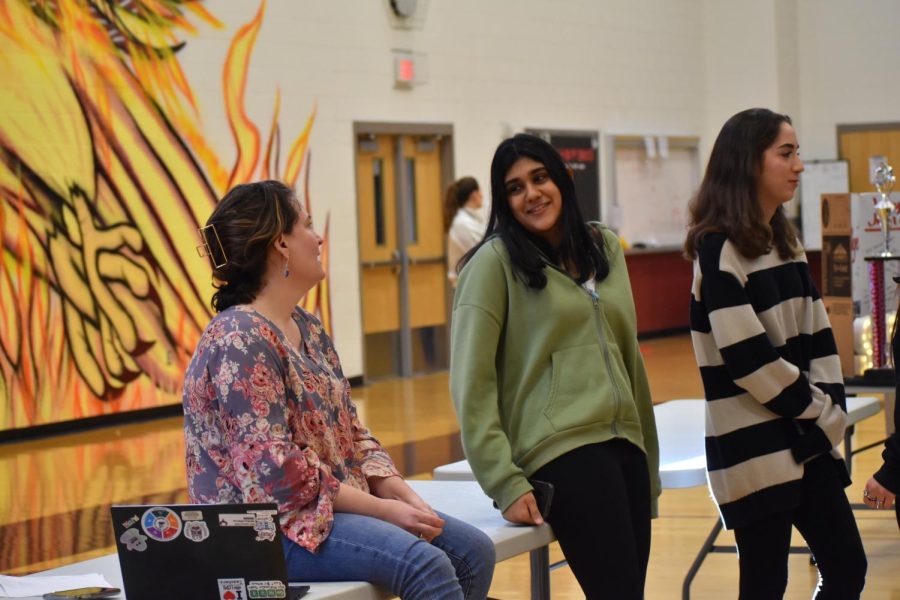 Marcus Motivates Students in Science: Mithra Marcus, chemistry teacher and Independent Science Research (ISR) mentor, explains the science electives to sophomore Anika Sharma. Marcus spent the first hour and a half of the school day in the gym to entice science interested in the sciences to take chemistry. ISR is an elective which allows students to independently study and complete an in-depth research project as a requirement for the elective.
Photo by: Aarohi Motwani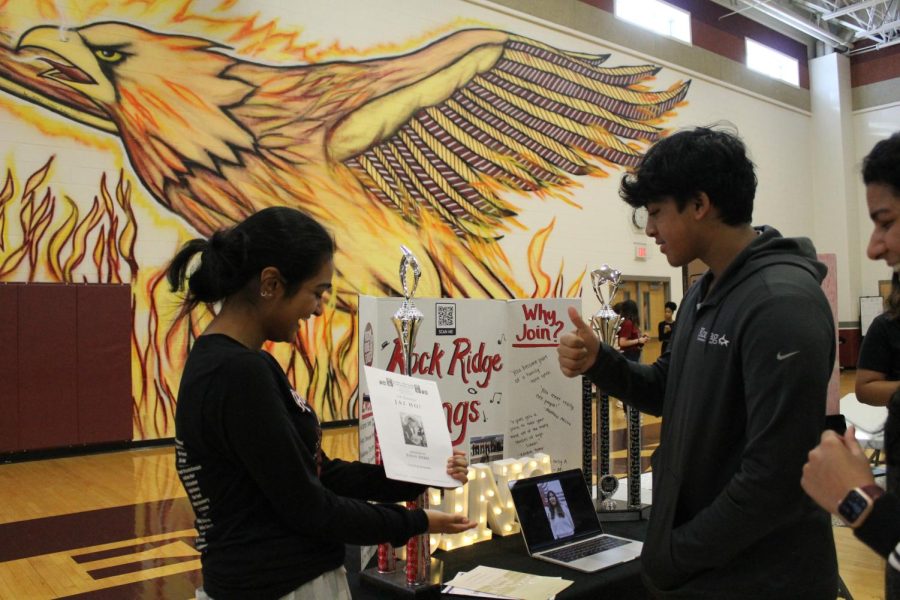 Sneha Serenades Students to Join Rock Ridge Sings: Senior Sneha Khandavalli urges sophomore Akhil Deverakonda to join Rock Ridge Sings, an elective that allows students to participate in various school choirs. "I was interested in how passionate [Sneha] was in the [class] and wanted to see what it was about," Devarakonda said. Rock Ridge Sings allows an avenue to students to advance in skills such as sight reading and vocal technique.
Photo by: Sruthi Sakala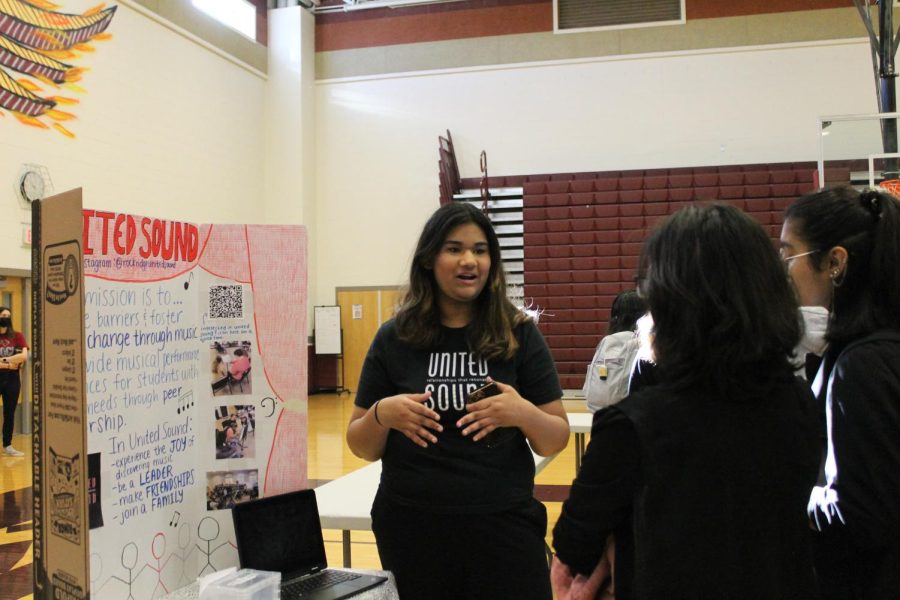 Ananya Advocates For United Sound: Standing in front of her poster board, junior Ananya Akula talks to students about United Sound, an elective that was introduced to the school in the last year. In United Sound, students in the class teach music to peers in special education. "It's a really unique class that is not in many schools," Akula said. "There are many leadership opportunities available in this elective as well."
Photo by: Sruthi Sakala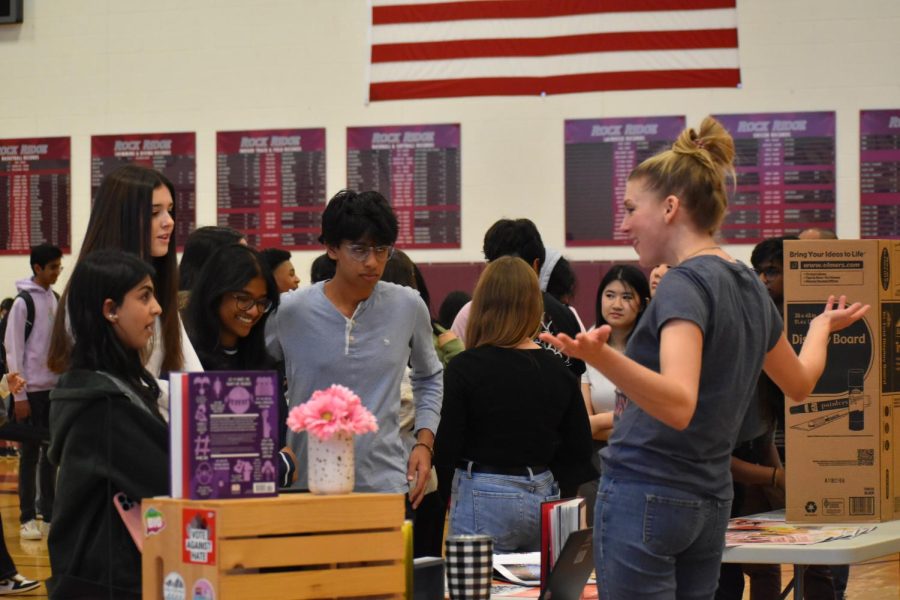 Jessica Berg Breaks the Ice(Berg) with Rock Ridge Students: English teacher Jessica Berg excitedly explains her Women and Gender Studies class to sophomores Maanu Karthikeyan and Ragya Verma, and juniors Ava Schmidt and Shirin Abdulkhaliq. In the history of the elective, there have been very few guys who took interest in the class. "Not a lot of people go out of their way to learn about things they wouldn't normally know," Verma said. "I wanted to take the time to learn about the other gender."
Photo by: Aarohi Motwani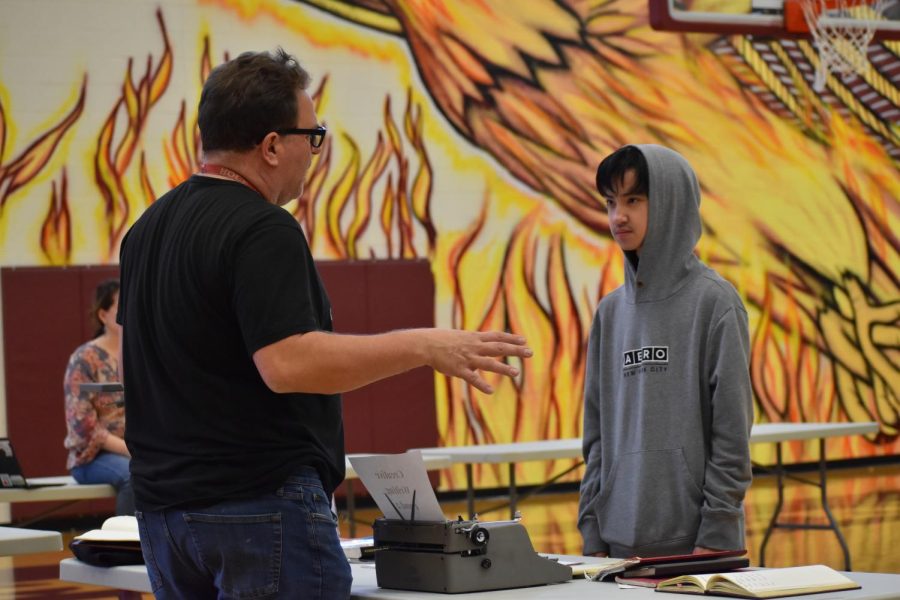 Koch Cares for Creativity: English teacher Paul Koch describes the projects and assignments of his creative writing elective to sophomore Joshua McPalmer. Creative writing is an elective where students have a choice to write prose, poetry, drama, etc. as well as look for examples to help improve their writing. They also have the opportunity to maintain a writing portfolio and look at their work throughout the year.
Photo by: Aarohi Motwani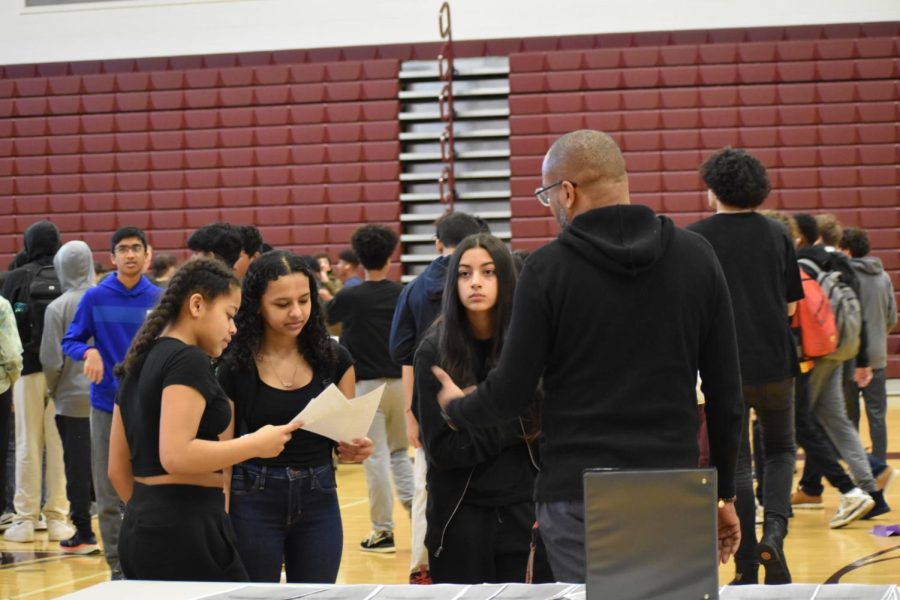 African American History Elective Arises: History teacher Justin Brown describes the African American history elective to freshmen Tatiana Bernard and Leyu Yonas. The African American history elective is a new class, which Brown will start teaching next school year if enough students show interest. "[I'm excited to teach] a lot of history that most folk don't know," Brown said. "[There are] a lot of unspoken characters in history that are important that you just don't have enough time to cover in regular history class."
Photo by: Aarohi Motwani