National Art Honors Society: Repainting Valentine's Day
Attempting to promote inclusivity to all types of relationships, not just romantic ones, the National Art Honors Society brought back Palentines. Starting on Feb. 6, students were able to buy Palentine cards at the cafeteria during certain times of the school day. The event ended on Feb. 10, and all proceeds went to LGBTQ+ organizations and charities.
Setting the Canvas
In a classroom tucked away at the back of the school, the sounds of pencils erasing stray marks and students chattering away ideas for their next Palentines project fill the space. For two years, the National Art Honors Society (NAHS) has hosted this project, where students and staff can purchase a Palentine card, drawn by the students, that will be delivered to the person they wish on Valentine's day. 
Senior Danny Fortuno, co-President of the honor society, said that NAHS aimed to rewrite the standards of love. "What we wanted to do is get rid of this standard that everyone for Valentine's Day has to be in a couple," Fortuno said. "For Palentines Day, there's all different kinds of forms of love, and you have appreciation for others. We don't think it should just be relationship love." 
Meet the Artists
Art teacher Heathre Mills sponsors NAHS, and the group's calling is to enrich the student community through art, bring more students together, and perform service work for said community. It allows students who are interested in expanding their creativity the chance to flourish in an environment that both welcomes and encourages them. Mills wanted the society to be student-centered. "I prefer it to be student-led, so I take a support role and whatever they need to function, I help facilitate the activities they want to do in school," Mills said. 
Co-presidents Fortuno and senior Taylor Cheek lead the eight to ten members of the group this year. "I think we're pretty steady, we have a steady continuation of leadership roles  where someone will step up from this year to next to be president," Mills said. "It's just been this really lovely continuation of our mission and goals." In order to join the honor society, you are required to be in one of Mills' art classes for the school year.
NAHS meets every Tuesday morning from 8:30 a.m. to 9:30 a.m., with a different agenda or goal for each meeting. "Our first meeting we just talked and decided we wanted to make National Art Honor Society T-shirts. So we tie-dyed them, then we soaked, and screened them over. That was a fun activity for us to do," Fortuno said. "That's kinda how we got inducted into the honors society." For the past few meetings, they have been planning, designing and advertising Palentines.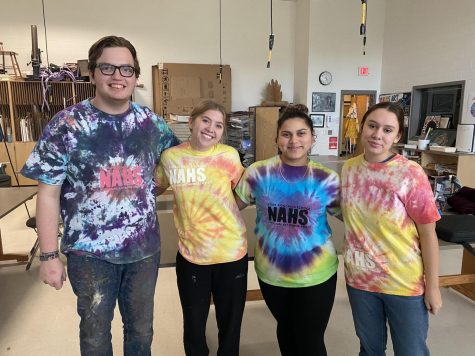 Preparing Palentines
Palentines took place between Feb 6. to Feb 10. Cards could be purchased before school or during lunch with, and were delivered to either a friend, teacher, or even to yourself for self-love. Last year, the former NAHS president Alexander Hardesty started Palentines, and this year Cheek and Fortuno wanted to keep this event alive by adding on to the traditions. "Last year, we were kind of putting it together and figuring out who's doing what, and it was a little like a process to get everything organized," Cheek said. "This year, we knew what we were doing and we came in early and we got everything figured out."
Each Palentine is a hand-drawn card made by one of the members of the NAHS, with designs ranging from supportive messages to cute puns. Each card had a Sour Patch Kids attached to it as the honor society wants to be "inclusive as possible."  Cheek states that she wishes for every new year of the NAHS to add more to Palentines. "I think it's just going to keep getting better and added to, and eventually become an NAHS tradition," Cheek said.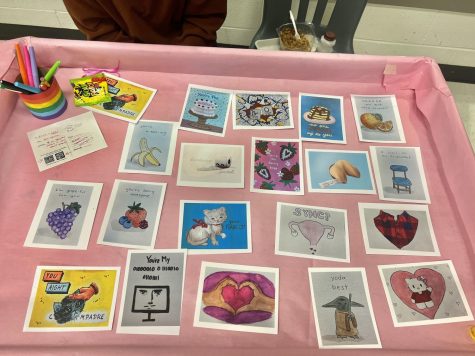 Repainting the Narrative
As stores and online websites displays "Gift for Him" or "Gift for Her" for Valentine's Day, members of NAHS worried that the day somehow tried to exclude a specific community from expressing their form of love: the LGBTQ+ community. They also felt that it failed to tell people that the day is not just about recognizing that not everyone experiences romantic affection. Cheek wanted to show that a person doesn't need to be in a romantic relationship. "Well, what if I love my best friend, teacher, and sibling?" Cheek said. "It really is showing love to all people, so we thought back to the LGBTQ+ organization and their kind of mission of celebration of love, appreciation, and mutual affection."  
The group hopes to create a safe space where people can share their mutual feelings with one another. Junior Adith Pashya, a member of the LGBTQ+ community, believes Valentine's day is any other day for the community. "We love each other every day of the week," Pashya said. " I mean, it's really just like a gift giving thing, kind of like Christmas."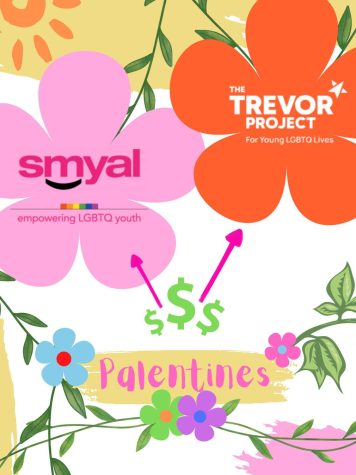 Counting the Cards
Each card was sold for $1, and NAHS made around $150 to $200 total in proceeds. The proceeds went to several LGBTQ+ charities, such as SMYAL and the Trevor Project. 
SMYAL focuses on providing opportunities and shelter for LGBTQ+ youth that are not welcomed in their households. They're based in Washington DC, and are planning to make 2023 their biggest year in helping the community. "I just thought that was a really positive environment," Cheek said. "It gives them an environment to learn about anything they need in life and just continue living." The other charity, the Trevor Project, is a suicide prevention hotline and shelter for the LGBTQ+ community. Cheek stated they wanted to expand that resource to people as well as donate to it, as well as spread awareness about suicide.
Palentine card sales ended on Feb. 10. NAHS plans on keeping this tradition for next year.