Sisters Launch Mask Business To Help Loudoun Community Combat Pandemic
Since March, seniors Amelie and Sophia Clarke have sewn and donated thousands of masks to the community in response to the coronavirus pandemic.
In early March, the home of seniors Amelie and Sophia Clarke looked more like a start-up's headquarters. By day, their dining room was their boardroom:  the twin sisters would gather with their laptops and chart their courses of action daily. Papers, part of their planning process, were strewn about their living room and hung from the walls. A side room was turned into their production room —  storing sewing machines, fabric, an ironing board, and completed masks ready to be donated as part of their community service initiative, Hopes and Seams.
Within weeks of the closure of Loudoun County Public Schools on March 12 due to the rapidly developing COVID-19 pandemic, the Clarke family decided to harness their quarantine free time to sew and donate masks to frontline workers in response to the personal protective equipment shortage. 
The seniors' decision to serve their community could not have been an easier one. The sisters point to fond memories of Girl Scouts, where they donated sandwiches and blankets as second graders, as the origin of their commitment to service work and volunteerism. 
"We were always taught to think about others," Sophia said. "When we were little kids, we'd help the community by making sandwiches. We've done Toys for Tots, we've cleaned up the beach — it's stuck with us," she said.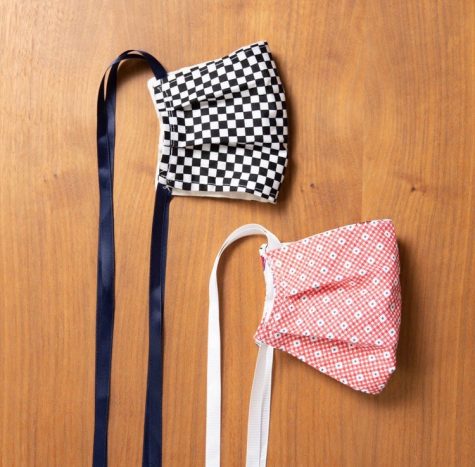 The sisters started sewing with their grandmother in March, and Amelie decided to create an Instagram account to document their work. Immediately, people began reaching out to order masks. 
One of their first orders came from Brian Summers, the operator of a local Chick-Fil-A restaurant. On May 1, the Ryan Park franchise posted on Facebook that they were "scrambling" for masks about a month prior. Hopes and Seams was able to provide cow-patterned masks to the restaurant. "Not only did [Hopes and Seams] come to our rescue, but this awesome family has been making masks for over ten Chick-fil-A restaurants in NoVa and two in South Carolina," the post continued.
As they began to receive more orders, Hopes and Seams then adopted their current business model of donating one mask for each one purchased, using any profit they earned to produce more masks for donation. "We didn't think this would turn into a business or would turn into some huge thing," Amelie said. "It just so happened to be." 
In their first month, the sisters enlisted the help of senior Tyler Morris, a close friend of theirs with whom they have worked with on several projects associated with Rock Ridge DECA. Morris serves as the group's creative director, updating social media pages and designing logos.
"He came from 8 a.m. to 4 p.m. every single weekday. It was like we did school, basically," Sophia added. During the day, the trio would draw up future plans, make masks, run through deliveries, and update their social media accounts.
As their operations expanded, marketing teachers Sandra Tucker, Ben Stodola, and Rachael Vesely helped Hopes and Seams create press releases and transition to operating online. Annamika Hacikyan, the activities coordinator and physical education teacher, guided Sophia and Amelie as they transitioned to an Etsy shop from Google Form orders. 
"The first month was definitely a little hectic," Sophia said.
Since March, Hopes and Seams has been donating masks to various organizations, frequenting Mobile Hope of Loudoun and Inova Loudoun weekly. 
"
The joy that the nurses would get once we donated our masks just put gas in the tank just to continue to help as much as we could
— Senior Tyler Morris
"I was so happy and proud of them when I found out [what they were doing]," Allison Alison, the Rock Ridge Mobile Hope club sponsor, said in an email. "Not only are they doing a really great thing, but they are showing that young people care and want to help the community," Alison said.
During the month of September, they also supplied masks to Believe In Tomorrow Children's House at Johns Hopkins in support of childhood cancer awareness month. 
"The joy that the nurses would get once we donated our masks just put gas in the tank just to continue to help as much as we could," Morris said. 
In addition to supporting healthcare workers, they have also donated cloth masks to retirement homes, fire stations, and schools around Loudoun County. 
In total, Amelie and Sophia estimate that they have sold 1,500 masks and donated 2,000 since March.
On Sept. 4, the Virginia House of Delegates passed a commendation of Hopes and Seams' community service efforts. "Hopes and Seams has done incredible work in the community, donating thousands of masks to populations that are particularly vulnerable to the threat of COVID-19," Suhas Subramanyam, a delegate representing the 87th district and the patron of the commendation, said in an email. "Amelie and Sophia and all the other people involved have made our community proud, and I was delighted to have the General Assembly recognize their important work."
In early October, Morris received the President's Volunteer Service Award which recognized the hours he committed to volunteerism as part of the initiative.
Reflecting on the state of the pandemic seven months later, Sophia said that she "just didn't expect that this would still be going on." 
"Part of the name [Hopes and Seams] is that we are spreading hope every time we give someone a mask," Amelie said. "To go out and make these deliveries and almost have that hope that soon if everyone keeps wearing a mask, it'll all be over."
The Center for Disease Control and Prevention recommends that people wear masks in public and when around others who are not part of the same household and observe the recommended six feet of social distancing as preventative measures against the coronavirus.