Phoenix Wrestling Dominates At Districts and Soars to States
On Feb. 5, Phoenix wrestling hosted districts, where several wrestlers placed. Senior Ming Yu, junior Seth Cogar, and junior Ilias Choklakis all participated in state championships at Virginia Beach on Feb. 18.
After battling their way through districts and regionals, Phoenix wrestling took part in the state championships at Virginia Beach on Feb. 18. Several wrestlers placed at the three events and wrestlers senior Ming Yu and juniors Seth Cogar and Ilias Cholakis participated at states, with Cholakis placing fourth.
The final stretch of Phoenix wrestling's season began with districts, which were  held at home on Feb. 5. All wrestlers from the team had the opportunity to make it to regionals. Eight school wrestling teams from across the district gathered at Rock Ridge for the district wrestling meet. The athletes appreciated the home advantage. "I liked having districts be at Rock Ridge…It wasn't very far, [and we] didn't have to wake up as early," junior Nat Bodman said. 
In order for a wrestler to make it to regionals, an individual wrestler must win at least 2 matches. 
Amongst the wrestlers participating at districts, sophomore Caitlyn Washington stood out, making an impression on other wrestlers and spectators at Districts.  "All the guys there were ripped, and I was really scared because I [was thinking] 'oh my gosh, they're gonna break me," Washington said. 
Washington is the only girl on the Phoenix wrestling team, as well as the only girl to attend districts out of all the wrestling teams this year. "At districts, I'm fairly certain that I was the only girl at the competition — I was definitely the only girl in my weight class, which was really nerve-wracking," Washington said. "Usually at tournaments, there's like maybe one or two [girls], but at districts it was just me." 
This season was Washington's first on the varsity team, so she was eager to prove herself.  "I was already feeling the pressure," she said. Washington placed fifth in her weight class, coming short of qualifying for regionals.
Like Washington,  juniors Nat Bodman and Teyany Kleiner placed fifth in their respective weight classes, just barely coming short of qualifying for regionals. Cogar and Cholakis placed second in their respective weight classes at districts, qualifying for the regional championships.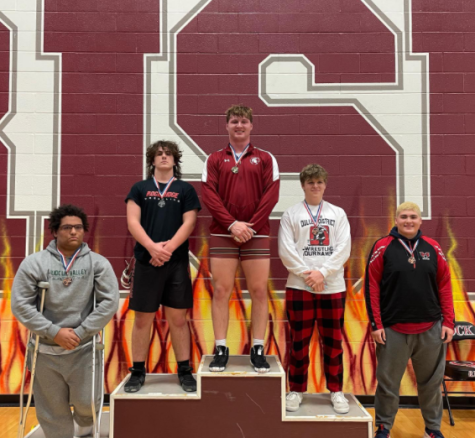 This was Cogar's first year wrestling for Rock Ridge, and he qualified for regionals after placing second in his weight class. During districts, Cogar had the opportunity to face Alex Birchmeier, a D1 football player committed  to Penn State. "[He is an] amazing wrestler, I love versing that kind of talent," Cogar said. 
In addition to Cogar and Cholakis, Yu placed second in his weight class and senior Hunter Cox placed third, qualifying both athletes for the regional championships. Rock Ridge placed sixth as a team with 114 points at Districts. 
The following weekend, qualified wrestlers went on to the regional championships held at Fauquier High School in Warrenton on Feb 12. After winning more than 2 matches each, Yu, Cogar, Cox and Cholakis placed at regionals, with You and Cogar placing third and Cox placing fifth. Yu, Cogar, and Cholakis advanced to states for placing in the top three, with Cox coming short of qualifying for states. The Phoenix placed ninth as a team at regionals amongst the 16 schools participating.
Yu, Cogar, and Cholakis made their way down to Virginia Beach to compete in the class 4 state championships with the team on Feb. 18 alongside wrestlers from VHSL divisions  4A, 5A, and 6A. Yu, Cogar, and Cholakis took on several wrestlers, earning their positions in the quarter finals at the state championships.However, at quarter finals, the three wrestlers lost their matches, sending them  into the consolation bracket for a chance at placing third, fourth or fifth. 
All three athletes made it past the first round in the consolation bracket and moved on to the "blood round," or round 2 of the consolation bracket. Yu and Cogar lost their matches at the blood round, unable to move ahead in the tournament, while Cholakis won the blood round and advanced to day 2 of the tournament. Cholakis participated in the consolation semifinals and emerged victorious, moving on to the match that determines third place. In the end, Cholakis just barely came short of placing third, placing fourth overall.  The wrestling season ended with the Phoenix placing 20th as a team at states with 30 points. 
As a senior, Yu's last match of his high school career took place during states. Wrestling coach and Chemistry teacher Kyle Hayne posted a heartfelt message on the wrestling Instagram account following his final match. "Ming, you wrestled your heart out in your last match and left it all on the mat," Hayne wrote. "I am so proud of what you have accomplished these past three seasons, and how much you have grown as both a wrestler and a young man."