Nov. 3 marks the last practice for the varsity and junior varsity cheer teams' fall season. The teams, coached by school counselor Ashley Hastings and Coach Cortnee Williams, had a challenging but satisfactory season. With 19 varsity cheerleaders and 10 JV cheerleaders spanning all grade levels, cheer served as a place of connection and community.
Tryouts for the fall season took place on July 31, Aug. 1, and Aug. 2 –before the school year started for most students. After June 20, prospective cheerleaders also visited "Open Gym" on Tuesdays and Thursdays to get a feel for the cheer team's atmosphere. During this time, athletes could practice tumbling and stunts to prepare for tryouts and the upcoming season.
Practices officially began on Aug. 3, the day after tryouts. Since then, cheerleaders arrived everyday before school to rehearse and train before the school day started. In the beginning of the season, this meant practicing from 5:45 a.m. to 8:30 a.m., but later this changed to 6:30 a.m. to 8:30 a.m. 
Story continues below advertisement
Backspot freshman Hannah Fawzy practices jumps on her AirTrack at home, which she describes as a "really long trampoline but less bouncy," she said. After being a gymnast for five years, Fawzy decided to start cheer at the beginning of this season. Since then, she has become stronger as a backspot, helping the bases (the people holding up the person in the air) so they don't have to carry all the weight of the flyer (the person in the air).
The team's hard work showed throughout the season at pep rallies and football games. The first home game that the cheerleaders participated in was on Sept. 1. It was their first opportunity to show off their skills and routines to the student body. Throughout the fall season, they continued to show their school spirit.
There's more to cheer than just sideline, though. "We may just be cheerleaders, and we wave pom-poms and stuff, but that's only the sideline [version of] us," captain and side base senior Raegan Carper said. "The competition [version of] us is a whole, completely different story." At competitions, the team performs a 3-minute routine for judges, full of stunting, tumbling, and more. 
The first of these competitions was on Sept. 20, but the team couldn't compete due to many athletes being injured. Their second competition, "District Minis," was held on Oct. 4 at Park View High School. Ultimately, the team placed fifth.
Nonetheless, the cheerleaders persevere and push to improve, and the District Championships ultimately found main base sophomore Tatiana Bernard ready to face the challenge head on. "I think we are capable of doing it if everyone just believes in it, and we put in our all," Bernard said, the day before heading off to Woodgrove High School on Oct. 19. "I think we're doing really good this season. There were some complications throughout the season, but we were able to bounce back, and our team probably had our strongest season so far."
In the end, the cheer team placed 5th out of five teams. Some of the cheerleaders felt defeated while others were more optimistic. "I definitely thought we did good at [the district] comp, but the judges didn't think so apparently," Fawzy said. "We hit everything, nobody fell, but we didn't win."
Despite the loss, the athletes didn't hold bitter feelings and had fun with the other cheerleaders. "My favorite part of the whole season and being a part of the team is what we do at the end of every competition we go to: we dance with all the other cheerleaders, and we form a dance circle," Carper said. "That just makes me feel good because even though we're on different teams and we're from different schools, we believe in each other as one."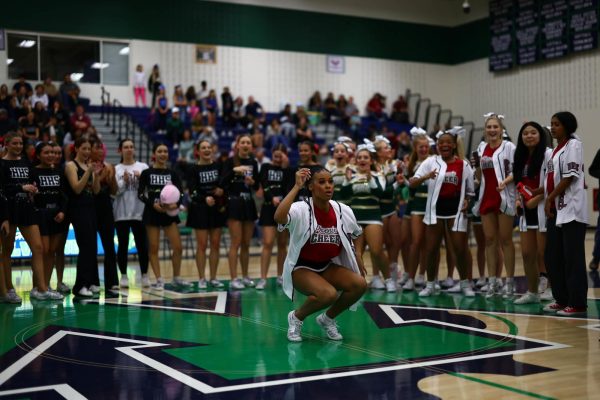 Overall, this season has been one for growth. Bernard has not only seen improvement with the team, but also with herself. "Normally, I'm the type of person to get upset if I don't do things right, but this year I was able to learn and just to do better the next time and work on my cheer routine to get better."
This spirit of hard work and dedication is shared by Carper. "[A] majority of our time is cheer," Carper said. "[A] majority of my life is basically cheer. I put so much effort into it–just being a part of this team, just to be a member or call myself a Rock Ridge Phoenix. We basically put our life and soul into it."
The team didn't improve alone, though. Their coaches, while often critical, played an integral role.
"Half the time they're yelling at us," Carper said. "[But], I know [Coach Williams] loves us, and she's only hard on us because she doesn't like seeing us fall apart."
"They're kind of like angry moms, but in a good way," flyer junior Shayne Mitchell said. "They taught me a lot about being determined and trying things over and over again even if it doesn't work, and just believing in yourself even if you think you can't do it."
"Our coaches are everything," Fawzy said. "They believe in us everything no matter what. They will fight for our team to win. Our coaches will fight for us." 
For many, cheer allowed athletes to leave the regular stresses of school behind. "We come in with a very positive mindset so whatever we're feeling outside of it, we come here to get away from all of that," Carper said.
By the end of the season, cheer became a place for athletes to bond, grow, and enjoy themselves. "[I have] definitely no regrets at all," Mitchell said.
Cheer will return in the winter season to support the basketball teams.