What's A Rumor You've Heard About The Election?
The Blaze is looking out for election misinformation and unverified reports; here, we have researched and answered some of your questions.
Throughout the day, we received your questions on election rumors and misinformation. As polls begin to close around the country, here are some of the answers to what comes next.
Q: Is the postal service being slowed down?
As of today, the state of Virginia has an estimated 300,000 mail-in ballots that still need to be pre-processed, Commissioner Christopher Piper said at the 11 a.m. briefing. The commissioner said that the state was in the same position as of Election Day in 2016. 
Across the country, the United States Postal Services has reported delays in delivering mail-in ballots sent from voters in several battleground states including Michigan and Pennsylvania. Today, Judge Emmet Sullivan of the U.S. District Court for the District of Columbia ordered the USPS to send postal service inspectors to sweep facilities from 12:30 p.m. to 3:00 p.m. to "ensure that no ballots have been held up and that any identified ballots are immediately sent out for delivery" in areas of Pennsylvania, Michigan, Georgia, Colorado, Wyoming, Texas, Alabama, South Carolina, Florida, and Arizona.
However, as of 4 p.m., the USPS failed to meet the deadline set by Judge Sullivan, citing a lack of inspectors who would be able to scour entire facilities in addition to their other election mail-related responsibilities, according to John Kruzel, a legal reporter for the Hill. As of this week, there are 300,000 ballots that have not received a delivery scan confirming receipt, and many states do not accept ballots that arrive after Election Day. 
Judge Sullivan said that the USPS should "be prepared to discuss the apparent lack of compliance with the Court's order" at noon tomorrow.
The state of Virginia will accept mail-in ballots postmarked by today until Nov. 6. The Virginia Dept. of Elections is slated to hold a final briefing on election results at 9 p.m. 
Q: I have heard that police are engaging in voter suppression.
As of the 4 p.m. briefing by the Virginia Dept. of Elections, there have been zero official reports of voter intimidation at the polls. "We do not have any indication that voters were turned away or that there was any inability for them to have cast their ballot," Election Commissioner Christopher Piper said. 
Q: Potential violence afterward — I heard people were boarding up businesses in preparation.
In an election characterized by promises to contest results in court, no commitments by the sitting president to a peaceful transfer of power, and attacks on the legitimacy of mail-in voting, Americans are cautious about what election results could mean for protests and their potential to escalate. According to NPR, businesses in major cities across the country including Boston, New York City, Los Angeles, San Francisco, Chicago, and Washington D.C. have begun installing plywood in preparation for election-related disruptions.
However, the Washingtonian reported that D.C. officials were not aware of any credible threats of violence around Election Day, according to D.C. Police Chief Peter Newsham as of an Oct. 29 press conference. Furthermore, the District's guide for businesses does not recommend that businesses board up buildings. 
Although ten states have already called the National Guard to help with "election tasks," D.C. Mayor Murial Bowser has said that the city has found no reason to ask the National Guard for assistance. 
About the Contributor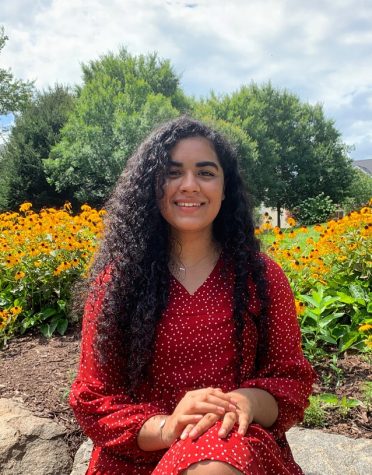 Shradha Dinesh, Editor-in-Chief
Shradha is a senior and third-year staff member of The Blaze. This is her second year as the editor in chief. When she isn't reading or writing, you can find her crafting scathing reviews of Netflix originals...