Election Denier, But Only When It Helps
Ohio Senator-Elect J.D. Vance is a rising star of the Republican party, but his true colors and false luster have started to shine bright from wrongfully denying the verified results of the 2020 presidential election to claiming that he will fight for the middle class as a wealthy elite. Using his newly-adopted faith and Trump-endorsed status to back his political beliefs and actions, Vance has proved his leadership will bring gloomy, dark nights.
Meet the proud bestselling author and Yale Law School graduate, former principal at a leading Silicon Valley investment firm, and a seasoned professional at deepening the socioeconomic divide in the United States: Senator-Elect J.D. Vance, the self-proclaimed "conservative outsider." 
The native Ohioan brought in upwards of $820,000 from his investments and salary in 2021, but promises to not become corrupted and become part of the "deep state." At first glance seems like the picture-perfect candidate for the average hardworking Republican who values a strong United States economy, exceptional border security, and Christian values. A convert into the Catholic faith and one that values honesty, candor and sincerity, Vance was "confident" about his victory in the Ohio Senate race, and planned to support the election's results, yet believes that the 2020 presidential election was "stolen" from Former President Donald Trump. So much for truthfulness and integrity.
On the campaign trail in March, Vance openly criticized the well-deserved results of the 2020 election, claiming "there were problems" that existed which Americans "need to get to the bottom of." 
According to a thorough 2021 statistical analysis conducted by the Proceedings of the National Academy of Sciences of the United States of America, a peer-reviewed national journal, the "evidence" provided by Trump supporters and administration to support the so-called stolen election are misconstrued and not even "remotely convincing."
PNAS disproves the most popular theories which pushed that many of President Joe Biden's votes were casted by dead citizens with fraudulent ballots and skewed ballots. For example, the argument that Biden's loss of 18 out of 19 bellwether counties — or influential counties that vote in congruence with the state, essentially determining the state's electoral vote — was inconsistent with Biden's decisive win is utterly flawed.
"
To make that assumption that the bellwether counties are always going to go align with the winner of an election is a little dated assumption."
— United States and Comparative Government teacher Kathryn Taylor
Only one election since 1996 suggests that the winners of the presidential election are more likely to win the majority of bellwether counties, as opposed to the counties following the area's history of political party dominance. Though widespread evidence like this suggests Biden's win was truthful and deserving, Vance simply can't grasp the reality — or perhaps, doesn't want to. United States and Comparative Government teacher Kathryn Taylor thinks that looking at bellwether counties to justify the election's winner is "flawed reasoning." "You have to look at the regional and local dynamics leading up to an election which we know varies across counties," Taylor said. "To make that assumption that the bellwether counties are always going to go align with the winner of an election is a little dated assumption."
Human Geography teacher Howard Goldberg agrees that statistics, especially regarding lesser-known topics, are sometimes misleading if one doesn't consider all aspects of the situation. "You always have to dig deep into the statistics [and ensure you are looking at all sides of a situation]," Goldberg said.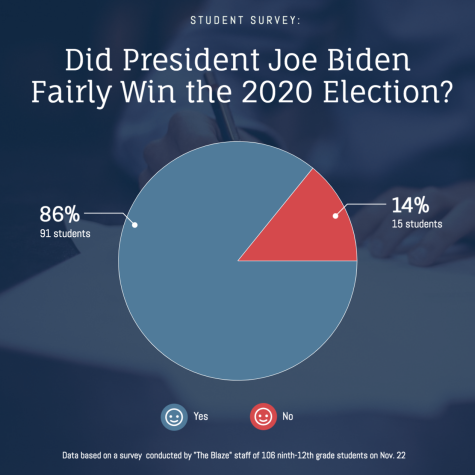 Many Rock Ridge students agree that the election was not stolen from Trump and fairly elected Biden. Out of the 106 students surveyed by The Blaze staff on Nov. 22, 85.8%, or 91 students, believed that Biden won the election legitimately.
Unlike Vance, Democratic Ohio Senate candidate Tim Ryan has never denied election results, even when they were unfavorable towards him or his party. On Nov. 8, he took a subtle jab at Vance, contrasting his willingness to accept the unfavorable results with that of Vance. "I had the privilege to concede this race to J.D. Vance," Ryan said in his concession speech on Nov. 8. "Because the way this country operates is that if you lose an election, you concede. We can't have a system where if you win, it's a legitimate election, and if you lose, someone stole it. That is not how we can move forward in the United States."
In a speech where most felt Ryan was accepting defeat, he really cornered Vance into a political headlock, eloquently summarizing the glaring flaws in his political strategy for the common viewer.
According to Vance, however, this is the way to move forward. His foolproof plan was simple: support Trump and benefit from a portion of his 74,222,958 supporters from 2020. Don't overdo it, though — the conservative Republican who measured ahead of Ryan closer to election day shouldn't deny the favorable Ohio Senate race results which were "extremely true" and "integrity" because well, that could get awkward, especially since Vance "expects to win." This increasingly popular backbone of Republican political strategy is conclusive evidence of the hypocrisy of Vance and other Republican election deniers — support democracy when it helps you, and ignore it at any premonition of disaster.   
Vance quickly realized that he needed the support of Trump — the former pride and joy of the Republicans. Yet, the rocky relationship turned fairy tale between the two Republicans has raised some eyebrows. At Trump's rally in late April, he admitted that Vance had  "said some bad sh– about me," defending himself by continuing that "every one of the [other candidates he endorsed] did also."
Only five months later, Trump emphasized how Vance was "kissing [his] a–" in order to receive his endorsement at Vance's rally on Sept. 17 and compared Vance's transformation into a Trump supporter to when Kim Jong Un "fell in love" with Trump. "Yeah, [Vance] said some bad things about me, but that was before he knew me and then he fell in love," Trump said. "Remember I said that about Kim Jong Un? He fell in love, and they said, 'Oh, Trump is saying he fell in love.' Actually he did, if you want to know the truth."
Upon making this political decision to engage in an ill-fated political playdate, Vance quickly became one of the ~300 calves that mother elephant Trump endorsed in the 2022 midterm election on April 10; boosted by this political figure (but not a coronavirus vaccine), Vance aimed to accelerate his quest to disseminate political deceit and misinformation.
Yet, once Vance and fellow staunch Republicans realized that Trump-endorsed candidates did not receive the astronomical advantage that they projected, they attempted to move away from his name. In his 10 minute victory speech on Nov. 8, Vance didn't mention the former president even once, only thanking him in a statement to Fox News Digital the next day, claiming Trump's support "made all the difference." 
Despite this victory in the swing state, a close analysis of Vance's political beliefs spew the stench of the wealthy Republican elite and their key traits — manipulative, apathetic, and egocentric.
In addition to benefiting from Trump's endorsement, Vance has repeatedly praised the efforts of far right insurrectionists in sacking the Capitol on Jan. 6, 2021. In a tweet in January, he encouraged the public to support the prisoners through donating or "writing a letter or offering words of encouragement," insisting that many of them are veterans "who served their country honorably and are accused of nothing."
According to Insider, 948 individuals have been arrested and charged for raiding the Capitol, damaging the building, injuring around 150 Capitol and Metropolitan Police Department officers, and preventing the electoral votes from being counted and verified.
Furthermore, his views on key issues cannot be backed — even by those of his own faith. Vance converted to Catholic Christianity in Aug. 2019, and has claimed his religion has influenced his political views. Vance was raised as a Christian, but never baptized or closely associated with a particular denomination. As he "became more interested in faith," he looked to which branch of Christianity appealed to him both intellectually and personally; given that some of his close relatives were Catholic and personal research, he "became persuaded over time that Catholicism was true."
Yet, close analysis of his viewpoints and beliefs regarding major political issues raise questions about his true alignment with Catholicism. According to the National Catholic Reporter, Vance gives Catholicism a "bad name." He uses his religion as a "vehicle for his sociocultural vision," but abandons the tenets of the religion in issue areas including immigration and climate change.
Even more unsettling is the type of people Vance chooses to associate with. At a national conservative movement-focused conference at Franciscan University in Steubenville, Ohio, Rachel Bovard, senior director of policy at the Conservative Partnership Institute, maniacally pointed fingers at left-leaning politicians and the oncoming dangers she predicts under their leadership. "If the last 30 years has taught us anything, it's that the left's fascist orgy is not somehow going to abate," Bovard said. "No one knows what lunacy is coming next, but we all know what's eventually coming: normalized pederasty, forced euthanasia, postnatal abortion, persecuting dissident faiths, disqualifying religious traditionalists and political conservatives from banking, property rights and public benefits."
This rhetoric is a prime example of the insensitive and utterly false information Vance and his political allies continue to spread.
Bovard's claims regarding forced euthanasia and postnatal abortion are discredited based on past legislation and the argument of the majority of Democrats: "It has always been illegal to harm a newborn infant. This vote [for the Women's Health Protection Act of 2019] has nothing — nothing — to do with that. Read the language," in the words of then-Senate Minority Leader Chuck Schumer, D-N.Y.
Countless laws like the Child Abuse Prevention and Treatment Act which provides federal funding for states that adopt policies to ensure proper of treatment of newborns, and the Born-Alive Infants Protection Act of 2022 which mandated that federal protections that applied to "persons" also included "children born at any stage of development, including after an abortion," ensure humane treatment of infants.
Another key principle in Vance's political approach is cracking down on border security. In an effort to limit the amount of undocumented immigrants that enter the the United States, Vance promises to "fight back" against the Democrat leaders that have "flooded our country with criminals and drugs," and believes that Democrats are not doing enough to protect the country.
Vance has made it clear that he would advocate for the completion of the southern border wall, which requires $3 billion. "We have to be willing to use the leverage that we will have with congressional majorities to actually force Joe Biden to do some of the core functions of the federal government," Vance said at a campaign event in Columbus, Ohio. "One of the things we have to be willing to do as Republicans is force the conversation on border security. It's killing way too many people," Vance said.
In actuality, undocumented immigrants have committed less crimes and been arrested compared to natural born citizens. According to Cato at Liberty, a public policy think tank, native‐​born Americans generally have the highest "criminal conviction rates," with illegal immigrants following, and legal immigrants just behind. Furthermore, a study published by PNAS in Dec. 2020 demonstrated that Texas-residing undocumented immigrants "were less than half as likely to be arrested for violent crimes or drug offenses and less than a quarter as likely to be arrested for property crimes" compared to U.S. born citizens.
Ironically, this data was collected from 2012-18 — during Trump's reign and insistent calls to "build a wall." Trump's efforts didn't get him very far: the administration was only able to build 15 miles of "new primary border," where none previously existed, and 350 miles of a secondary barrier. 
Throughout his time in office and on the campaign trail, Trump made many unfulfilled and outlandish claims from criticizing Former President Barack Obama's birth in the U.S. to vowing to eliminate "gun-free zones"; these poorly planned political actions' impact was represented in his approval ratings — an all time average low at 34%.
Before we know it, Vance will be left with no choice but to bring down and delegitimize any Democrat that even slightly criticizes him and promise (but, thankfully, not fulfill) unattainable policy which will harm the general public — and just like Trump, his approval ratings will quickly spiral downwards once the public understands what a "conservative outsider" truly believes in. Like his former mentor, selfish election deniers like Vance should be discouraged from running for office in order to protect the very principles that this country was founded on — holding fair elections, honoring basic human rights, and the separation of powers.