On the morning of Friday, Oct. 13, seniors were invited to participate in a senior breakfast hosted in the library. This was the first breakfast event this year, and the senior class was allowed to choose what foods would be present at the event; the final vote was donuts, fruit, and a variety of beverages including Starbucks' brand drinks.
Seniors utilized this opportunity in a variety of ways. For some, one of the great benefits of this senior get-together was a chance for the college-bound to reconnect with friends, old and new. Senior Soham Chandra took the opportunity to relax before the school day started. "I did come here to enjoy the food," Chandra said. "The frappuccino killed me, I love that stuff." 
Some students also opted to take this time to study instead, using the event to get together with peers to work on projects while eating some free food. Either way, there was no right or wrong way to enjoy a free donut.
Story continues below advertisement
Of course, none of this would be possible without the planning committee. Senior class officer Naolee Makonnen helped plan and coordinate the event. "We had the option between breakfast burritos or donuts and coffee," Makonnen said. "We ended up going with donuts and coffee because [the group] just [felt] like that's just better, and the burritos weren't the best because some people had food restrictions and not everybody would be able to enjoy them."
There were many tasks SCA had to do for this event in preparation: ordering the chosen food, setting up the location and time, and making sure the first breakfast of the year was set for success. Faculty member Brittany Thomas was one of the main staff members helping to organize the event. Thomas said it took three weeks to get all the moving parts together, find volunteers, and execute the whole event.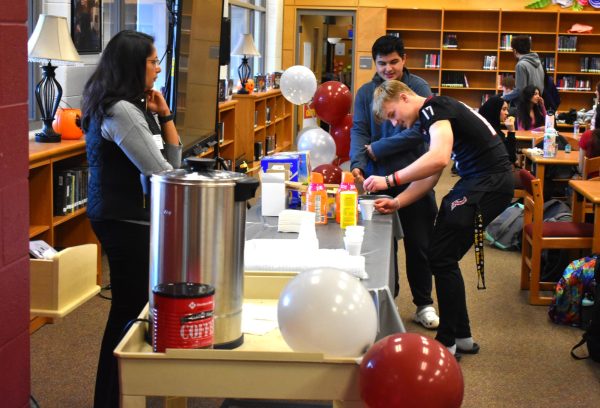 After the event was finished, volunteers and organizers of the event made sure to thoroughly clean the library to make sure the place was as spotless as it was before the event.
While some members of SCA, such as Makonnen, wish to make the event a quarterly tradition, other students such as senior Adrian Mata, want to keep the event to a limited number of times throughout the year. "I think one is fine," Mata said. "If they want to have [it] more frequently, then [a] maximum 2 [with] maybe one per semester so it's not overkill [and] it's still festive."
All the hard work paid off, as the event drew in a vast majority of the senior class, most everybody getting a chance to chomp on some donuts, enjoy their beverage of choice, and reconnect with friends and academia.
The next senior breakfast is planned for Friday, Dec. 15.