Starting before school classes begin, the cafeteria staff is hard at work preparing breakfast and lunch for students and staff to enjoy. Mozzarella cheese sticks, chicken sandwiches, calzones, tacos, and pizza are only some of the lunch selections that are rotated throughout the week to keep food options fresh for students.
Loudoun County Public Schools (LCPS) used to utilize the TITAN Family Portal which allowed parents to make accounts to pay for their child's school lunches for the 2022-2023 school year. Parents sent money to their children's accounts for them to access using their student ID when they bought lunch. 
This year, however, LCPS changed to a new system called LINQ Connect. This application, as stated by attendance secretary Mary Howard, can be used by parents to set up an account, create automatic payment times straight from their bank account to the LINQ account, and set the amount of money sent for each automatic payment.
Story continues below advertisement
Whether it's chicken, pizza, or a calzone, lunch entrees have faced both criticism and praise from students.
Nuggets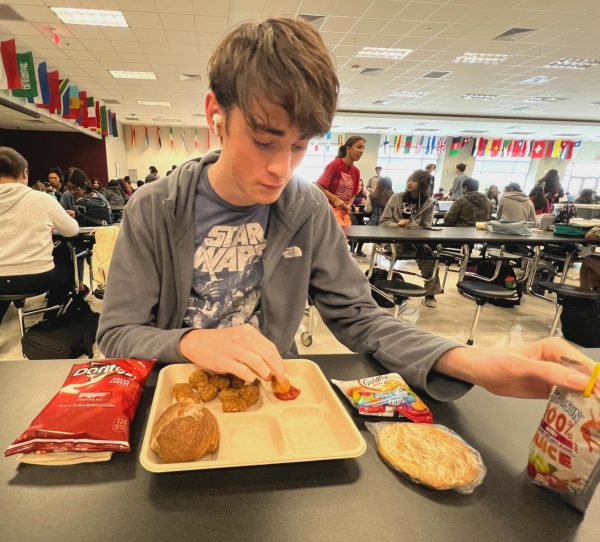 No matter if it's an elementary, middle, or high school, chicken nuggets will always be a staple lunch option for students. Throughout the years the school has been open, entree options have been retired, created, or kept for students to enjoy during their lunch block. While some students believe the taste has stayed the same over the years, senior Dylan Weicker has noticed that the taste is different from how he remembered it back in middle school. "I would like the old chicken bites back from middle school; I know they used to have them, I don't know where they went," Weicker said. "I miss them dearly. That's all I hope for: that's my one wish, my one hope, my one dream."
There are two types of nuggets: buffalo chicken, which is spicier than a normal chicken nugget, and regular. Many students opt for the chicken nugget option over other school lunch meals.  "I like chicken, and [the school serves] good chicken," Weicker said.
Chicken Sandwich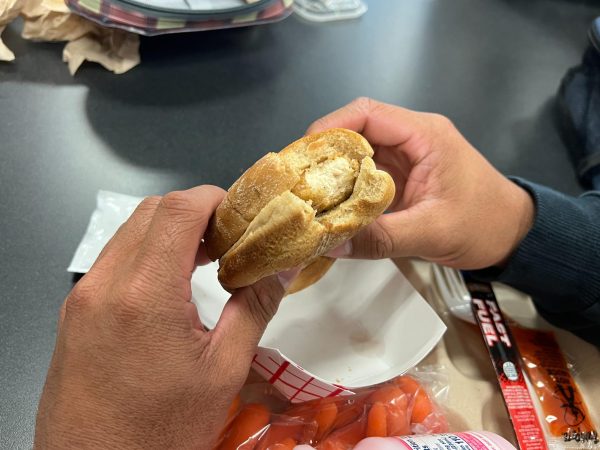 Whether it be spicy, savory, or baked, the chicken sandwich is a staple of the lunch menu. Although it is simple, the chicken sandwich has a lot of variety. For example, there are two different types of patties sold on chicken sandwich days. Baked patties are round and thin, and regular patties are thicker and less circular.
Students generally have a positive opinion of the chicken sandwich; senior Matthew Calvario has had great experiences with it in the past. "This is a fine meal, it has the carbohydrates and the protein I need for, you know, my daily caloric needs," Valvario said.
Packed Lunch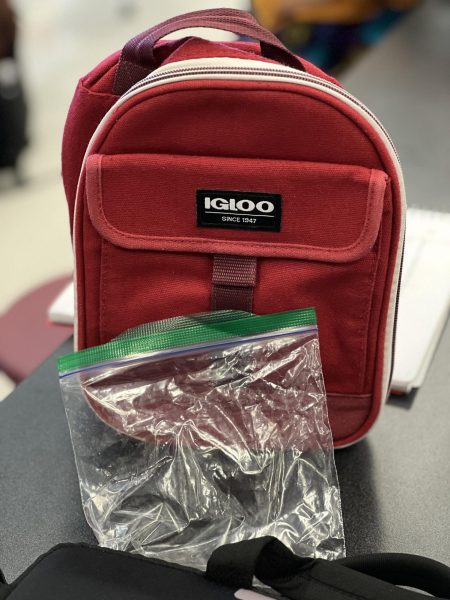 Students who buy school lunches have always had divided opinions on the meals. Some options have remained popular with students while others have been favored less by hungry patrons. This created an incentive for students, including junior Lalith Radesh Penumatsa, to pack their lunch. "[I bring] anything from burgers to sandwiches," Penumatsa said. "[If I do get school lunch, I get] mozzarella sticks or [the] good pizza like last week's."
While most students simply bring lunch because they want to eat their own food, some, like senior Nora Nabih, believe the school lunch tastes off. "I think you can tell it's been frozen," Nabih said. "Like the time they had dumplings, I didn't try them because I was wary of them tasting weird."
Overall, the student consensus of lunch is that it's there when you need it. Not all students are able to pack or make lunch before school starts as pointed out by Calvario, so the extra money spent on lunch is needed. "When families cannot make proper meals for their kids, the one dollar extra is fine," Calvario said.