A Look Into The "Mirage:" An Interview With Young Wabo
After a long stream of singles, Young Wabo released his latest EP in early May. His release was met with nothing but positivity from his small but very loyal fanbase.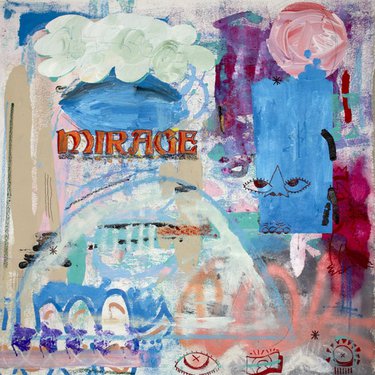 Young Wabo is one of the most overlooked rappers in the east coast underground scene. With only 52,000 monthly listeners, he makes music that excels past other artists with one million listeners. In his latest release, "Mirage," was a blank slate to let himself express how lost he was feeling in life and the search for a direction.
The album was fueled by the recent major events in his life. "These last few months have been anything but calculated," Wabo said. He used this project to put the emotions — stress from his recent decision to forgo school to focus primarily on music, as well as moving to Richmond —  that he was holding back into the music. "I feel like I allow myself to release the weight of bottled emotions on my soul," Wabo said. 
Wabo knew he  had a real project in the making in December while making the song "Hiipower." Previously, his releases have been quick with little space between them, but there was something different about this EP. "I knew I had something special here, so I took my time crafting and putting together the songs of this project," Wabo said. He took six months of studio time to release the album.
Every track on this project other than "Eos" gives production credit to the extraordinary talent known as C!, a close friend of Wabo's. Nine songs were sent to Wabo for this EP, and  seven of them became official songs. Wabo credits C!'s production ability for the success of the project.  "Normally it takes 25-30 [beats] to create a seven song EP, but he's just that good at creating cohesive masterpieces," Wabo said. 
The tracks of the release are full of fellow rappers from the artist collective New College Entertainment. New College Entertainment's members shine through on the song "Papyrus," with features from YL and everybodyhatesgep. "The creation of 'Papyrus' came naturally, just a cipher in the studio," Wabo said about YL and everybodyhatesgep. "It was a given they would be on it." The final feature on the album  is Kwame Adu. Adu adds feeling to "Moron," propelling it ahead of some of the other tracks. "When I finished "Moron," I felt that it was missing an element, and I knew exactly who to hit up: Kwame," Wabo said. 
This EP shows great growth from Wabo, not only in the rapping but also the general atmosphere of his projects. It helps accentuate his style and it shows his capabilities. The album felt like a compact project:  with more time,  the effort put into each song showed.  Compared with some of his earlier works, his music is gaining more depth as he grows as an artist. The features allow other artists' names to increase in popularity from Wabo, given that he's one of the most popular members of the underground artist collective, New College Entertainment. To top it all off, the production by C! was absolutely perfect for this EP. This project shines clear as a perfect 10 out of 10.