Indoor Track & Field's Record-Breaking Season Makes History
Rock Ridge's Indoor Track and Field season featured history-making relay teams that broke school records and received nominations to compete at the district, region, state, and national level.
From November through January, over 80 Rock Ridge students ran, raced, threw, flew, and jumped as members of the indoor track and field team. Throughout the season, the boys and girls varsity teams participated in a total of ten meets with events spanning from sprints and hurdles to shot put and high jump. Track includes events like sprints, long-distance races, relays, and hurdles, while field contests  include events like the high jump, long jump, triple jump, and shot put.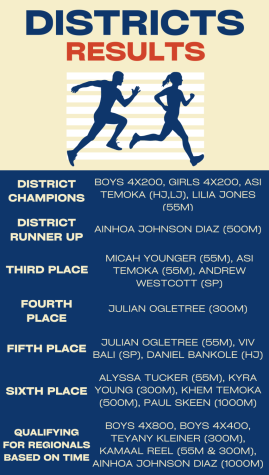 Track 
This season, the Rock Ridge 4×200 relay team (four people running 200 meters each) performed phenomenally, coming out on top as the best in Rock Ridge history, breaking the school record twice and qualifying for district and national level competitions twice. At the Virginia Showcase 2023, sophomore Julian Ogletree, juniors Asi Temoka and TeYany Kleiner, and senior Kamaal Reel placed 10th out of 63 teams from across the East Coast with a time of 1:38.82. 
Reel has been running since he was just four years old. "I have family members who are now gone that put me into track, so now I gotta do it for them," Reel said. "They wanted to do what they wanted to do, but they couldn't fulfill it, so now it is your time to honor them and do your thing."
Not all athletes have been running for as long as Reel, but that doesn't stop them from continually pushing and trying hard to make their mark on the team. Karla Jaen is a middle/long distance runner who originally started running for fun during quarantine. This season, she placed second in a 1000 meter race among 17 students from three other schools at the Rock Ridge Quad Meet on Jan. 4. "From this season, I would say [my biggest accomplishment was that] I PR'd for all my events from last year's indoor track by a lot, so that was pretty fun to see," Jaen said.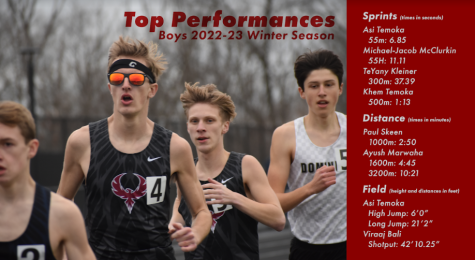 Field
Indoor field athletes also achieved high scores this season, repeatedly placing first and second in the high jump and shot put events. Assistant coach for high jumpers and sprinters Kayla Hennessey thinks the season has been going very well. "We have a lot of kids that have shown more potential than we were expecting and more kids are going to the championship meets," Hennessey said.
Senior Viraaj Bali has accomplished record scores in the shot put category and placed first and second at multiple meets. "You have to be very in control of your body to the point where every split second decision can be a foot to five foot difference in your throw," Bali said. "I focused a lot [on] being able to turn off my thoughts and just zone into what I am doing in the moment [when doing shot puts]."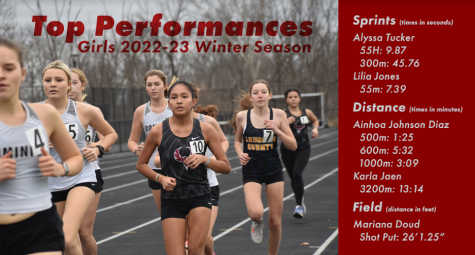 The Best Place for Indoor Track is Outdoors  
In the winter, Rock Ridge athletes run as part of the indoor track and field team. In the spring, however, this is replaced by outdoor track and field. Unfortunately, Rock Ridge does not possess the proper, full-fledged indoor facilities needed for a truly indoor track, so athletes are practicing outside during both the winter and spring seasons. "[Winter Indoor Track is] definitely more mental in the way that you have to get yourself out there in the freezing cold, since we don't really have an indoor track, so it shows discipline," Jaen said. 
This sense of discipline and drive is something that the coaches try to emphasize to their athletes. "One challenge is just the personal motivation," Hennessey said. "Some athletes really have it and some don't, so we have to drive them more. You are going to get out of it what you put into it."
According to Bali, the winter season is more a preparation and conditioning time for the upcoming Outdoor Track season. "That winter season is to build yourself up, to make you stronger, to get that leverage over everyone else who you think is stronger so you can be at their level or better than them," Bali said.