The Art Behind The Lit Mag
On May 19, members of the Art & Literary Magazine program distributed copies of the new edition to students around the school. The members have worked for months to finalize the copy of the Lit Magazine.
The Art & Literary Magazine club has been working diligently all year to finalize the 2023 issue. On May 19, Lit Mag members distributed copies to the student body – focusing on handing out copies in places like the library and the fine arts hallway. 
After many months of reviewing and deciding which pieces to include in the copy, Lit Mag members can finally relax as their efforts pay off. "It took a lot longer than we expected," freshman Amima Alam said.
At the beginning of the year, the club started advertising and encouraging the student body to submit pieces for revision. "For a good chunk of the year, we review the submissions that people give us," junior Nikki Khanna said. After multiple revisions from both the staff and the editorial board, many of the pieces in the magazine showcase the overall theme – "Contemporary Accents."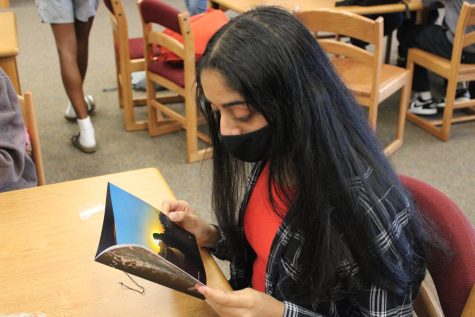 An exciting aspect of the revision process was how the members reviewed each submitted piece. They kept all submissions anonymous until after voting on them – trying to be as unbiased as possible when making the final decision. The program also spent a lot of time trying to pick pieces that match their overall theme while showcasing the students' efforts. "We have to think about the literature aspect of this too," Alam said. "We try hard to match the literature with the art." 
The members appreciated the efforts of the editorial board, as they guided the program all year. Many staff members love the program's atmosphere, and they are grateful for the leadership of the Editor-in-Chief – senior Nanaki Bawa. "Nanaki's a great [editor]," Alam said. "She's an outstanding leader as the Editor-in-Chief." With the leadership from the editorial board along with the efforts of the staff, students can now enjoy this year's edition of the Lit Magazine. 
Students can view a digital version of the magazine on the website or pick up a copy at the front office or library.