Ticket Trauma: Are the Bryson Tiller Tickets Worth the Cost?
On March 20, R&B artist Bryson Tiller announced his "Back and I'm Better" tour, leaving thousands of his fans excited to see him perform live. However, many will not see him perform live in Washington, D.C. at The Fillmore due to the costly price of a single ticket.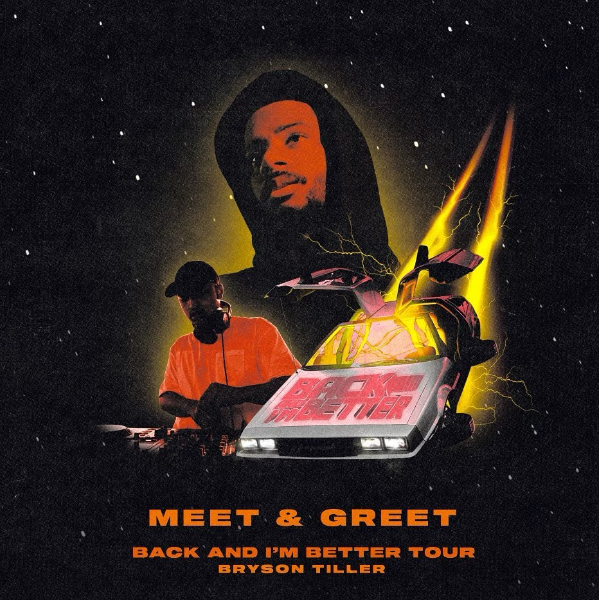 You've been on Ticketmaster for the past 20 minutes, patiently waiting for the ticket sale to open to the general public. You've been waiting for years to see Bryson Tiller perform, and you're ready to pay a decent price to secure a ticket. That thought instantly vanishes as the ticket sale opens, and you're flabbergasted as you see the cost of a single ticket – with prices only starting at around $230. 
Bryson Tiller is on tour for the first time in six years, and fans across the country are excited to see him on stage once again. Tiller went on tour in 2017 after releasing his album, "True To Self." He was scheduled to tour again in 2020 following the release of his hit album, "Anniversary," but his plans didn't materialize due to COVID-19. The R&B star recently announced his "Back And I'm Better" tour on March 20 via Instagram, with the tour's title supposedly being a play on one of his lyrics from his 2015 hit single, "Don't."
Tiller is known throughout the music industry as one of the most influential R&B artists of this generation. His music has impacted many and he continues to amaze his fans with every song that he releases. Fans are excited that he finally announced his tour this spring after not seeing him perform for years, but many are upset over the prices of tickets. 
On May 23, Tiller performed at The Fillmore Silver Spring, a music venue located in Silver Spring, Maryland. Currently, a single ticket purchased from Ticketmaster costs anywhere from $230 to $500 for a general admission standing spot at The Fillmore. "I feel like they're way too high; it's insane," freshman Lucy Cho said. This price continues to fluctuate as fans are unsure about whether the prices are worth it. "[The prices] are ridiculous," junior Cora Bowen said. "That's a price you would pay for a Beyoncé concert, or something." 
The prices might seem reasonable considering that Tiller hasn't been on tour in six years, but paying $250 for a general standing ticket at The Fillmore Silver Spring seems like a stretch. Bowen agrees that the ticket prices are way too high for the quality and size of the venue. "I feel like he should've gone to a bigger venue," Bowen said. The price of the tickets would have been compensated if Tiller performed at a venue like The Anthem, a larger concert hall located in Washington, D.C., instead. 
Many fans are upset that they can't see Tiller perform because they aren't willing to pay that much for a single ticket, especially since they have been waiting years to see him perform. "He kind of got me into R&B," Bowen said. "He was one of the first R&B artists that I listened to and he got me more interested in the genre." 
It's upsetting to see that such enthusiastic listeners can't see Tiller performing live when he's had such a big impact on their music tastes. "I feel really sad that I can't go just because I don't have enough money for tickets," Cho said. 
Tiller is undoubtedly credited with being one of the most successful and influential R&B artists of this generation. His music and performances are unique and worth the watch, and there's no wonder as to why he is growing in popularity recently. However, stretching the ticket prices that high for a performance at The Fillmore doesn't seem like the best idea, even if Tiller doesn't control the ticket prices. Sources like Ticketmaster are already known for selling tickets at an absurd price range, so this situation isn't anything brand new. If Tiller and his team have any influence over the pricing, it would be helpful if he could make tickets available at a better rate for fans. Hopefully, ticket prices will drop, enabling fans to see Tiller's performances eventually.