Senior's Say 'Goodbye' at Final Band Concert of the Year, While United Sound Members Greet 'Hello' With First Ever Performance
On May 25, the Rock Ridge Band closed off a year of success with their end-of-year concert, highlighting the United Sound program, aiming to help bring music to special-needs students.
On May 25, 2023,  the Rock Ridge high school band performed their end-of-year concert alongside the 8th graders of the Stone Hill Middle School band and the United Sound program. This event marked the first appearance of the United Sound music education entity on the Rock Ridge stage. 
The night started off with the introduction of the United Sound program, a student–led program with the aim to help special needs students connect to and learn music. The program brings choir, band, and orchestra students together with special needs students, in the effort to help those learn new instruments, which junior Ananya Akula described as being "all about friends helping friends." On May 25, they had their first performance alongside the Wing Ensemble, the upper entity of the Rock Ridge band department, performing 'Forward March' by Paul Murtha. 
Akula, choir student and one of the chapter presidents of the United Sound chapter board, described this course as a "life-changing elective."  "It gives students in the special education department [the opportunity to] experience the joy of music, something that they haven't experienced before," Akula said. "I literally feel a glow in my heart. [It] is something so special and unique to see their perspectives on this world. I always enter and leave this classroom with a smile; it's just such a joy to be a part of this." 
After the United Sound members posed for a photo and proceeded to leave the stage, the Wing Ensemble performed two more songs — "Amazing Grace" by Ryan Nowling and "Strathcarron" by Phillip Sparkle before band director Justin Ratcliff acknowledged seniors and students that had made outstanding achievements during the year. Among others, Ratcliff paid special recognition to senior Parv Gosai  and sophomore Karis Huang, who got into the all-state band, as well as sophomore Arjun Alagappa and senior Casie Peng, who were alternates.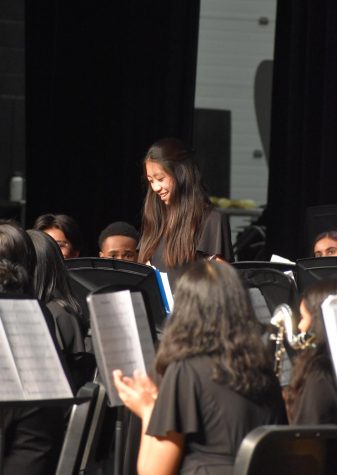 Led on by Stone Hill middle school band directors Brian Morton and Matthew Pazanowski, the 8th grade band took the stage soon after, performing "Bizarre" by Randall Standridge, "Photo Finish!" by Brant Karrick and "Pirates of the Caribbean" by Micheal Sweeney. This group of talented rising freshmen promises hope for the future of the Rock Ridge band. 
As the middle schoolers were walking off stage to take seats, the second Rock Ridge band, the Concert Band, came on stage to perform "The Forgotten Village" by Micheal Oare and end the night with "Torrents of Fire" by Larry Neeck. 
Senior Aadit Motwani felt pride for the hard work put in by his fellow band members and his own efforts, for his last band concert. "I'm very proud of the work that I put in myself and I am very proud of the stuff my classmates have achieved," Motwani said. "I think this year, I'm going to look back on as I go forward to college as a very fond memory." Motwani's favorite aspect of being part of band is seeing everyone striving to constantly improve. "We may not be the most talented players at all times, but I know that everybody wants to improve."
For senior D'Amora Brunson, performing her last band concert on stage made her realize how much she loves music. "Playing my last concert made me realize that music is definitely something I want to stick with in college and past college as well," Brunson said. "I just love making music. It tells a story with notes."
While being an emotional night for seniors, performing for their last time on stage with the band, the concert brought in an exciting and charged feeling of a new beginning with the United Sound's first performance.