Phoenix Wrestling Reaches New Heights
The 2023 Phoenix wrestling team hustled both on and off the mat to break records before the end of the winter season. One wrestler aimed to break 100 wins, another strived to place in states, and a hardworking freshman hoped to place high at districts.
Phoenix at Districts
On Monday Feb. 6, Freshman Julian Serna showed up to Health & PE with a new hairdo. In Phoenix wrestling tradition, wrestlers that qualify for regionals dye their hair blonde to celebrate their qualification from districts. "This is my first time," Serna said. "I think it's pretty fun because we're doing it as a team. You feel together and collected." 
On Feb. 4, Phoenix competed in districts at Heritage High School, where six Phoenix wrestlers qualified for the regional tournament. The six qualifiers included senior Ilias Cholakis, senior Seth Cogar, senior Vicente Geraldes, freshman Nate Martinez, senior James Lee, and freshman Julian Serna. 
In the weight class of 215 pounds, Cholakis placed first, while Cogar earned another first place finish in his weight class of 285. 
At 132 pounds, Serna finished at districts with a rank of second place, qualifying for regionals. 
With high goals — and only seven minutes per match to achieve them — the 2022-2023 Phoenix wrestling team aimed to set new records and compete to be better than the previous year. The team has increased the intensity of their training in order to better prepare for the intense competitions. 
Cholakis has accumulated the most wins this season, with a strong record of 27-2 and an overall high school career record of 93-38. Since the school was founded in 2014, only three Phoenix wrestlers have ever had an overall record that reached 100 wins, and, in addition to striving for a state title this year, Cholakis plans on becoming the fourth before his grand exit as a senior.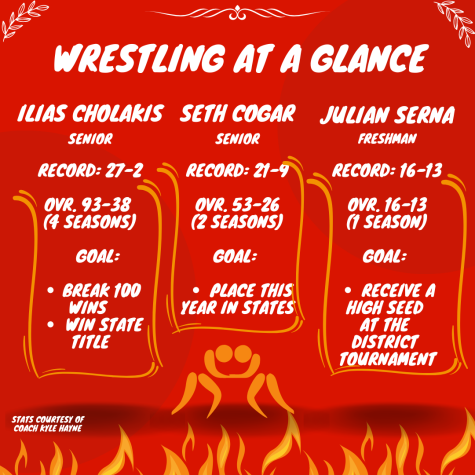 Cholakis has already made great strides towards this goal. On Dec. 20-21, the Phoenix wrestling team hosted the King of the Rock tournament, where wrestlers across Northern Virginia gathered to determine who amongst them is the strongest. Cholakis was the only wrestler from Rock Ridge to win in the placement matches. 
Cogar shortly followed Cholakis, with a current season record of 21-9 and an overall record of 53-26. During his first year of wrestling, Cogar's diligence allowed him to take the appropriate steps and training to forge an infamous name into the blood round of last year's state competition. After last year's season, Cogar has strived and worked hard win after win, making him a nearly unstoppable force on the mat. This year, Cogar's goal is to place in states. 
Serna, a newcomer to Phoenix wrestling, has raised the bar for himself by deciding to take on a tough challenge. Serna has achieved status as a starter on varsity as a freshman. With a current record of 16-13  and only one loss at district duals, Serna demonstrates great potential for his wrestling career. One of Serna's goals is to efficiently advance at district tournaments and receive high placement. 
Through all the improvements from last season, the wrestling team credits the strength of their teammates for their successes. "I love the team," junior Hilton Foley said. "I feel like it's one of the best communities in sports because everyone is so close to each other."
The community continued to grow with sophomore Grace Bodman, a fresh female addition to the team. "Even though it's an individual sport, we work as a team, and we work hard," Bodman said. 
Junior Axel Padilla, who is a new addition to the varsity roster, made his debut with a current season record of 4-5. Padilla has been seeking improvement by diligently competing with himself. "Everytime after a match, I'm watching myself back almost twenty times to know what to fix," Padilla said. By putting in consistent effort both physically and mentally, Paddilas determination is bound to reflect upon future seasons. Through consistent training and strong mental fortitude, the team was able to improve strongly from last season, and hopes to see even more improvement in the upcoming season.