MEDLIFE Members Move Mountains
MEDLIFE, a national non-profit organization, aims to provide more resources to low-income areas in Latin America and Africa. One of their main volunteer events is called Moving Mountains, where members ask their community to donate to their fundraiser.
As students filed into L211 on Sept. 28 at 8:45 a.m., they prepared to contribute to a national organization that heals thousands of families in low-income communities every year. Medicine, Education and Development for Low-Income Families Everywhere, or MEDLIFE, is a non-profit organization that works  to provide more resources to areas in Latin America and Africa through the form of "access to medicine, education, and community development projects."
MEDLIFE hosts a variety of volunteer initiatives including hosting service learning trips and service drives like the Moving Mountains project which aim to enlighten members, while providing funds to those in need.
A major part of the club involves taking service learning trips, which are week-long retreats to one of four destinations — Peru, Ecuador, Tanzania, or Nicaragua — where attendees assist local organizations and communities to improve conditions through working on "development projects" and establish mobile medical clinics.  
MEDLIFE members have not been able to attend any service learning trips in the last two years due to COVID-19 concerns, but hope to make the trip this year. "This year, we will have it again, and I will try to go," junior and Co-President Claire Cho said. "It's actually a great opportunity for everyone and is really affordable."  
Another main initiative that the club members regularly participate in is the Moving Mountains fundraiser. This year, the MEDLIFE club plans to host the fundraising event until late October.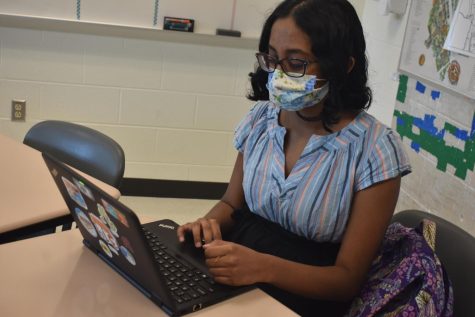 For this fundraiser, members register through Give Lively as a part of the RRHS MEDLIFE group and ask their friends and family to donate to the cause. Club member and senior Saanvi Gutta says that it is fairly easy to get friends and family to donate to the cause, as it only takes a small amount  to make a difference. "I just ask them [to contribute] and most often they're willing to donate because it only takes one dollar to give a family a meal," Gutta said. 
Senior and Co-President Neha Bhusarapu enjoys the Moving Mountains fundraiser, as it allows her to make an impact on the less fortunate. "Being able to help low income families everywhere [is one of my favorite parts of MEDLIFE]," Bhusarapu said. "Just with [collecting the] thousands of dollars we raised, we were able to help soup kitchens in Peru."
 Another initiative that MEDLIFE hosts is creating infographics about various health-related topics for the MEDLIFE Instagram to spread knowledge to the community. "It's a quick activity that doesn't take a ton of effort, but can be very helpful for the people who see the posts, and it's something anyone can do that doesn't require a huge time commitment or any sort of traveling or financial involvement, so it's an opportunity for a lot of different people to participate," MEDLIFE sponsor and Latin teacher Emily Gilmore said.
Cho also finds that MEDLIFE, which she joined in her freshman year, enables her to serve her community in another way, while gaining more insight into the medical field. "I always wanted to give back to my community and I am really interested in the medical field, so I thought MEDLIFE would be the perfect opportunity," Cho said. Cho is currently serving as president after acting as the club's secretary during the 2021-22 school year.
Similarly, Gilmore said that assisting students with carrying out such initiatives and following their passions is exactly why she loves being a sponsor. "The best part of sponsoring a club like this is probably just being able to give this group of students the space to do their work," Gilmore said. "The members are ambitious and altruistic people who are genuinely committed to helping others, so I'm happy to do anything I can to facilitate their philanthropic efforts!" 
By participating in the club, Cho has been exposed to various hardships that individuals face around the world and attempts to help provide access to medical resources and an education, which, in turn, allows for her to apply this knowledge to her future medical career. "I learned that you can always give back to your community [even before entering the medical field]," Cho said. "In MEDLIFE, you get to shadow people who actually take care of low-income families, so it's really great to see how medicine impacts those types of families in a positive way."