Rock Ridge DECA Goes National
After Rock Ridge DECA attended the State Leadership Conference (SLC), 18 teams were selected to go to the International Career Development Conference (ICDC). On April 18, 12 of those teams showcased their presentations to students and staff in preparation for the conference. Seniors Deeya Sharma, Eshan Mathur, and Rishi Chawla presented their Phoenix Peak project, based on the Rock Ridge school store, and placed in the Top 10 of the Retail Enterprise category.
From April 21 to April 26, 32 members of the Rock Ridge DECA chapter attended the International Career Development Conference (ICDC). Students selected had the opportunity to showcase their presentations and months of hard work and preparation to thousands of people and compete in hopes of placing in a national competition. Sophomore Deeksha Ramankole presented a project called "Charmed," which was created to help prevent against sexual assault. "I guess [the hardest part] was actually coming up [with an idea], because there were just so many things we could do, but we didn't know exactly what we wanted to do or what our actual product would be," Ramankole said.
Working individually or with a partner, the presentations explained the structure of the company the DECA members created, including a strengths, weaknesses, opportunities, and threats (SWOT) analysis, a breakdown of how they got into business with the companies, how they created a marketing plan to increase the amount of visibility their company achieved, and more. The event rounded out with the Phoenix Peak project, led by seniors Deeya Sharma, Eshan Mathur, and Rishi Chawla, placing in the Top 10 in the School-Based Enterprise – Retail Operations category.
Throughout the year, students worked with marketing teachers Sandra Tucker and Ben Stodola to create their presentations. They received feedback from the teachers to help make their presentations as perfect as possible. Senior Ananya Cheela and her teammates, Emily Lam and Nina Lal, presented "Purses for a Purpose," which was founded to get homeless women in the DC area access to hygiene goods. "My advisors, Mr. Stodola and Ms. Tucker [have been supporting us]," Cheela said. "Ms. Tucker was the one who gave us the idea to work with "Purses for a Purpose" because the founder used to go to Rock Ridge and was a DECA member, so she had really close ties and wanted to [pass] that along to us. We definitely would not have done such a great job with the whole project if it wasn't for her. Mr. Stodola [also] really stood by us through the whole thing and gave us feedback, gave us tips, and was there throughout the whole process."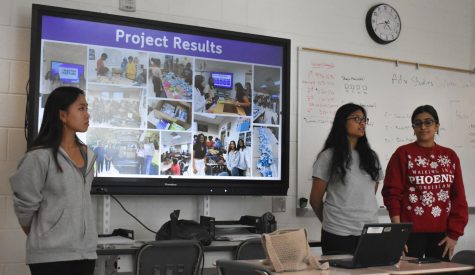 Purses for a Purpose: Seniors Emily Lam, Ananya Cheela, and Nina Lal (left to right) share the impact of their project. Purses for a Purpose is a locally owned business that this team was given the opportunity to work with. The goal of this company is to help homeless women and women in need get basic hygiene necessities by creating purses that store essentials such as soap, deodorant, toothbrushes, a comb, and more. As part of the presentation, they presented how they got started with the company, the steps they took to organize and manage the drives, the strengths and weaknesses of the project, and how they marketed it. "Our main motivation [for choosing this company] was probably our moms," Cheela said. "They are also from other countries, so when first coming to America they didn't have many resources, especially hygiene products, so we definitely looked back at that and wanted to give women an opportunity to get those necessities that our mothers didn't have," Cheela said.
Photo by: Shivu Sathe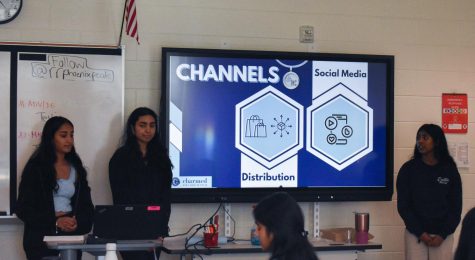 Aspiring Entrepreneurs "Charm" Their Way to Safety: Sophomores Nikki Kuninti, Deeksha Ramankole, and junior Varsha Korumilli (left to right) present the marketing plan for their company. Charmed, the presented company, was founded to help women everywhere stay safe against rape and sexual assault. This company sells charms that hold Ph strips that when dipped in a drink will be able to identify any drugs mixed in. The team had to effectively create the product, make a price evaluation of it, build a marketing plan to generate awareness about the product, and prove its efficacy. "We have always seen reports of people — girls — getting raped or sexually assaulted because of date rape drugs at parties or at colleges, so we kind of wanted to solve this problem in our own way," Ramankole said.
Photo by: Shivu Sathe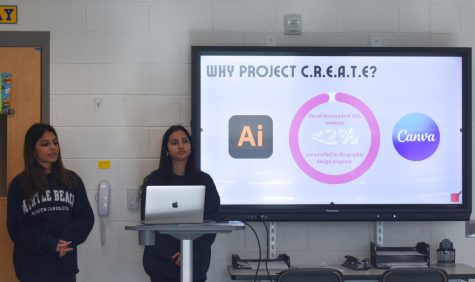 C.R.E.A.T.E-ing the Future of Design: Seniors Neha Venna and Anya Muju (left to right) explain why their company, Project C.R.E.A.T.E., is important for young adults. This project was developed to help young adults learn fundamental graphic design skills. Two workshops were held, one for beginners and one for more advanced individuals, where students were taught how to create different animals, shapes, and objects through indesign. Through their school accounts, the students that attended the workshops were able to keep using the skills learned during the lesson at home and explore the software further.
Photo by: Shivu Sathe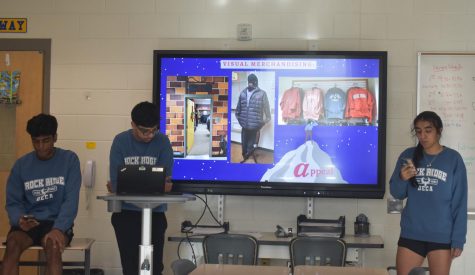 Seniors Bring the School Store to its PEAK: Seniors Rishi Chawla, Eshan Mathur, and Deeya Sharma (left to right) read off their working script as they showcase the appeal of the Phoenix Peak. Competing within the school-based enterprise, retail version, this project is through the Rock Ridge school store, the Phoenix Peak. As part of their project, Chawla, Mathur, and Sharma created plans to manage and promote the store through their marketing acronym P.E.A.K, standing for promote, engage, appeal, and kindness, all representing parts of how they are hoping to bring in customers. "So far [the hardest part] has been learning everything about it and putting it all together," Mathur said. "But, we have been able to persevere through it and just keep working on it."
Photo by: Shivu Sathe