Should Certain Hairstyles Be Gatekept?
Cornrows and box braids have been worn by multiple races for centuries. Now, some people are questioning whether it's cultural appreciation or a celebration of culture to wear them if you don't have the traditional hair type for certain styles.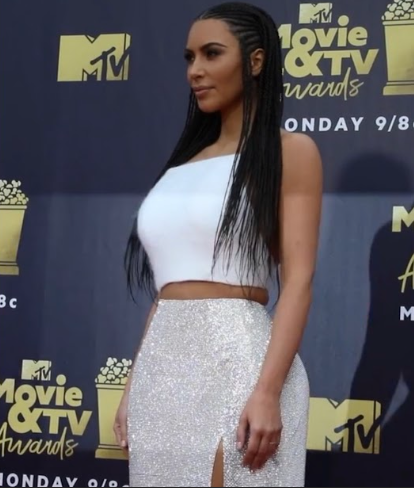 Should people be able to follow their fashion desires if they want to wear styles like cornrows or box braids but don't have the traditional hair, or should only the ones who have the traditional hair be able to wear them? Although some assert that those braids should only be worn if you have a cultural connection to it, believing that without the common culture, the hairstyle is cultural appropriation, others insist that we shouldn't pick and choose how people style their hair. 
Box braids, for example, first started in West Africa in 3500 BCE. Different types of braids had different meanings. People would associate braid designs with how rich a person was, the tribe they belonged to, their religion, and their jobs. 
After those braids became popular in Africa, countries outside of the continent developed similar versions.  Phom Pia and Muay Thai braids were originally braided on young boys and girls in Thailand. The biggest difference between those braids and box braids was that hair extensions weren't necessary in those newer braids. As common as those braids were, two Thai singers, Lalisa Manobal and Grace Kanklao, came under severe scrutiny when they wore them in 2020, despite the fact that the style was a part of their culture. 
The Vikings, Celtics, and Greeks also wore braids similar to cornrows for different reasons. For the Vikings, dreadlocks and braids were associated with social class. Married women of high status would braided their long hair to manage it. They may have even got their hairstyle from the Celts. The Celts would wear fairy-locks. Then, when Greece started trading with Egypt, the Greeks adopted hairstyles from Egypt too. Cornrows are even seen on some of Greece's statues like the Small Herculaneum. 
With several parts of the world including Africa, Asia, and Europe having variations of those braids at some point, it's easy to come to the conclusion that cornrows and box braids haven't been exclusive to a single culture. No one should be shunned for wearing those braids, as long as they aren't wearing it with the intention to make fun of the style. Hair is something that people use to express themselves, and taking away that self-expression would be a disservice.
Occasionally, people like to get cornrows or box braids when they go on vacations to the Bahamas or Caribbean. Recently, actress Jojo Siwa was heavily criticized on her Tiktok and Twitter for doing just that, where people accused her of cultural appropriation, but she most likely paid the locals who have the natural hair for a protective style. Many locals rely on the money they get from the tourism industry, and the people getting their hair braided by them take part in cultural appreciation rather than appropriation. 
Some people who do have the natural hairstyle for those braids don't have an issue with other people getting them. "I won't be offended if anyone does that hairstyle, as long as there is no malintent to it," sophomore Mawolawoe Melomey said. 
Others, like sophomore Jaden Thomas, agree. "I don't care if people wear it. I grew up wearing box braids and cornrows all the time, and I've seen multiple people wear them, so it doesn't matter what race you are," Thomas said.
Junior Reagan Carper believes that it would be hypocritical for her to say others shouldn't wear those braids when she has to add extensions in her hair for cornrows. "Sometimes I believe it's cultural appropriation when people are making fun of it, but I don't have a problem with people wearing them otherwise," Carper said. 
Girls need to support girls, not tear each other down because of hairstyles. However, according to recent reports, some Black people lost job opportunities and were discriminated against for simply embracing their natural hair. Some people might be upset to see non-Black people being praised for wearing those pretty braids when they've been discriminated against in the past. Therefore, we should all support each other and not tolerate racism against any race. That would mean that we let anyone wear protective braids, even if they don't have the traditional hair, and most importantly, we also make sure to not tolerate discrimination for people who embrace their natural hair.