"Letterboxd:" The App That Makes Gen Z Fall in Love With Film
The social media app used by self-proclaimed "cinephiles" and movie critics alike has begun to steadily attract younger generations from older millennials to younger Gen Z due to its personalized and unique approach to social networking.
In a generation raised with technology, how does a niche program succeed in attracting a wider audience?  The answer is sitting in our very own app stores. Created in 2011 by New Zealand natives Matthew Buchanan and Karl von Randow, "Letterboxd" is a social networking app that's used to like, rate, and log films. Beyond this, it also allows you to add movies you're interested in to a customized watchlist.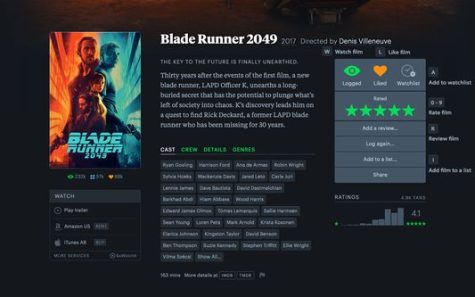 A synchronous mix of internet culture and film critiques brings in users from across all plains. Sophomore Juliana Noriega has been a "Letterboxd" user since summer 2021. "I mainly use 'Letterboxd' as a form of amusement," Noriega said. "The users review films with such a unique wit [that] it builds such a specific sense of humor for a community of movie lovers and haters alike."  The extensive database opens a door to film exploration never seen before, allowing anyone and everyone to utilize it. "'Letterboxd' encourages me to watch films and to embrace my love of cinema—there is definitely something for every user," Noriega said.
The site produces weekly newsletters, highlighting lowkey indie films, as well as the most anticipated upcoming watches. Each article gives readers an inside look into all factors of film production, even some content not accessible to the general public. The app also has the option to update an account to a PRO membership. This feature lets you have an even more personalized experience by including a capability to remove ads, add profile stats and filters, and special sneak peeks at new projects buzzing in the world of cinema. 
With the freedom to write whatever you want — seriously dissecting every trope in your recent watch, or a one word "meme" review –the possibilities are endless. You can add your top four favorite films to your profile and cultivate ranked lists. The easy accessibility of the app also lets you search for an actor's entire filmography, and provide a percentage for how much of it you have watched. There are separate categories for genre, most popular, highest rated, language, and even the most anticipated films. 
It's not surprising that millions of people have begun to swarm the app's services and its future is only looking brighter, as their year-over-year app revenue increased by a whopping 243%. So the next time you're looking for something to watch and don't know if it's good, check out the "Letterboxd" rating. If you're feeling like going on a rant about the most interesting documentary you've seen, post a rating. As movie theaters have been fighting streaming giants and shorter movies for popularity and relevance, "Letterboxd" proves that the future of film isn't all that bleak.