Phoenix Choir "Rises Up" for Fall Concert
On Oct. 17, Rock Ridge Sings performed their annual fall concert, inspired by the phoenix motto, R.I.S.E.
On Oct. 17, the Phoenix Choir came together to spread messages of love and inspiration through the songs in their fall concert. Led by Choir Director Jordan Markwood, the students performed multiple songs including "Rise" by Arianne Abela, "Revolution" by Pinkzebra, and the RRHS Alma Mater, arranged by Markwood and Band Director Justin Ratcliff. 
After the performance, Markwood was congratulated for the Teacher of the Year awards he had won earlier in the year. He was recognized by the school, state, and The Washington Post. Most of the student body, including his students, saw him receive his award. At the concert, junior Maggie Miller introduced Markwood's accomplishments, and a series of speakers including Senator John Bell and School Board member Jeff Morse praised his work as a teacher and his accomplishments in helping his community. He was also given many gifts, one of which was an envelope containing tickets to a Steelers football game. "CJ is going to be so jealous," Markwood said. 
Prior to the end of the concert, Senator John Bell also came forward to talk about Markwood's achievements. Markwood will be going to Richmond in January in order to recognize the fact that he was the 2022 LCPS Teacher of the Year, the 2022 Washington Post Teacher of the Year, and the first teacher to win both these awards. "On behalf of all of us, we really thank you for what you've done and the difference you made and the blessing you are everyday," Bell said. "So thank you so much. From the Senator of Virginia, it's my honor to recognize you today."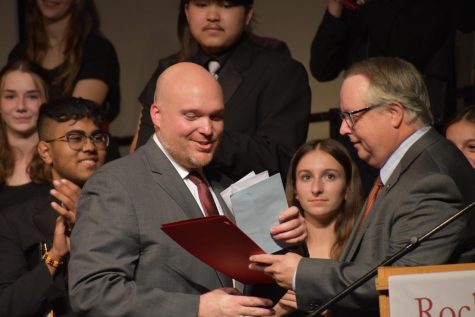 Although being Teacher of the Year was an experience he was very grateful for, it took time away from being in the classroom. In order to stay on track for the concert, he appointed Terrian Jennings as Assistant Choir Director to help while he was away. The students loved Jennings and spoke about how much she means to them.
After all the hours she put in to keep the students on track for the concert, Markwood felt it was only right for Jennings to direct the last song of the concert: "Sign Me Up."
Markwood has had a huge impact on his students and many say that his class has helped them greatly. "When I started choir, I was probably not gonna talk to anyone, because I'm scared to make friends, but he tried to make it like a very social environment so everyone felt comfortable." senior choir student Kiara Figueroa-Olivera said. 
The choir will next perform at their winter concert on Dec. 15.